Lalaounis Lion's Head Cufflinks.
Ilias Lalaounis is an Athenian jewelry company known for its antiquity-inspired designs. In 1940, at age twenty, founder Ilias Lalaounis began his career by apprenticing at the prestigious Zolotas— the family business. Eventually, Lalaounis started his own firm, specializing in fabricating chains. Later he began to produce ancient Greek revival jewellery. The enterprise was wildly successful. Business grew throughout the 1950's. In the 1960's, the firm became internationally recognized when Aristotle Onassis purchased Lalaounis jewels for his lover, Maria Callas, as well as for his (later) wife, Jacqueline Bouvier Kennedy. In 1993, Lalaounis opened a museum in Athens featuring several thousand pieces of his work—with the aim of both displaying his creations and educating the public about the original design periods that inspired them.
Lalaounis Gold and Pearl Earrings.
Lalaounis Cabochon Ruby Ring.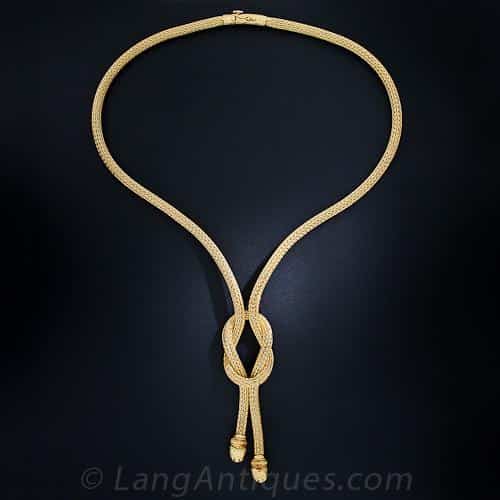 Lalaounis Hercules Knot Necklace.
Maker's Marks and Timeline:
Description
Specialties
c.1940
Ilias Lalaounis joined and ran Zolotas, the Family Business.
1957
Began production of designs inspired by ancient Greece
1969
Ilias Lalaounis became a separate company
Currently
Run by Ilias Lalaounis' daughters
Website: Lalaounis Jewelry Museum