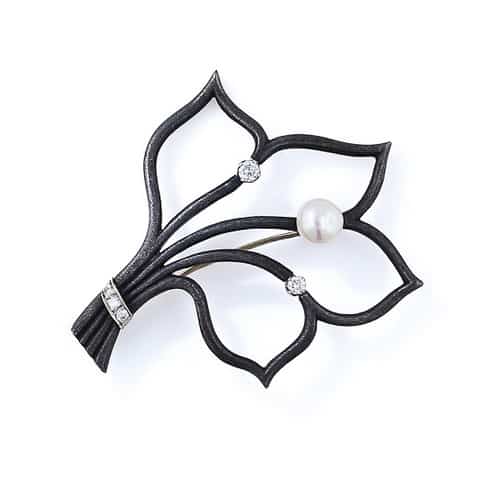 The venerable San Francisco firm of G.T. Marsh & Co. was founded in 1876 by George Turner Marsh. Born in Richmond, Australia, Marsh was fifteen when his family decided to immigrate to the United States on a route that included a stop in Japan. Enamored of the country, he was able to persuade his family to let him stay in Yokohama where his father secured him a position at a tea import/export firm. Joining his family in San Francisco a few years later, he used his experience and enthusiasm to open one of the first Asian art galleries in the United States, the aforementioned G.T.Marsh & Company: Japanese Art Repository.
During the 1930s, while specializing in Asian antiques and art, the firm started producing their own unique stylized jewelry. Most distinct was their combination of oxidized steel with traditional Asian materials such as pearl, coral, and jade.
As explained by jewelry appraiser and historian Barry Weber on an episode of Antiques Roadshow:
They had a jeweler that worked exclusively for them. He was Italian, but he also liked shotguns and, because of his interest in shotguns, he had an interest in iron and metallurgy and what they did to rifles and shotguns to keep them from rusting. And the Marsh's jewelry is steel that's been treated with gun bluing. He sandblasted the steel before he gun blued it, that gives it this marvelous matte finish. And nowadays I don't think there is anything more chic than the idea of black jewelry where the diamonds and the white gold absolutely pop and these marvelous pearls that he suspended have motion.1
Marsh & Co. jewelry is not usually signed but is easily distinguished by its design and materials. The firm, run by the third generation of the Marsh family, closed its doors in 2001.
Sources
Weber, Barry. Marsh Jewelry. Antiques Road Show, PBS; Biloxi, MS 2011.
Notes
Antiques Roadshow PBS.↵