Romantic Period 1837-1860
Coronation of Queen Victoria.
by Sir George Hayter.
The Victorian jewelry era is lengthy, covering the entire reign of its namesake Queen from 1837 to 1901. Advances in technology, the growing middle class, discovery of gold in California and Australia and a change in the social climate resulted in more jewelry being produced during the nineteenth century than in all prior history. Women overtook men as the primary jewelry wearers and they wore it in great volume. Decorative and necessary items such as buckles, buttons, and fasteners were now designed with the masses in mind. Production of memento, religious and talismanic jewelry was unsurpassed and these items were suddenly a necessity for everyone. In order to understand this wide-ranging era of jewelry history it is subdivided into three periods; the Early or Romantic, the Middle or Grand, and the Late Victorian or Aesthetic periods.
The early years of the Victorian era reflected the youth of the new Queen. This was a time of courtship and marriage for Victoria. Nostalgia for the Middle Ages was rampant in England. Tournaments were reenacted, organized groups and clubs toured historical buildings to learn the difference between Gothic and Norman and those involved in the arts adopted the Middle Ages in their designs. Themes inspired by the Renaissance and the Middle Ages were everywhere in jewelry design and motifs from nature dominated the period. Bouquets of flowers, branches, leaves, grapes, and berries were conspicuously featured in jewelry. Symbolism associated with flowers was prominently in evidence. Serpent motifs were at their apex. Popular since antiquity, snake jewelry served as a bold symbol of wisdom and eternity.
The jewelry from the early part of this period was completely handmade. Prior to 1854, there were only two gold standards allowed for hallmarking with the crown, 22 karat, and 18 karat. Consequently, high karat gold, tri-color gold, and silver comprised the main metals used. After 1854 less expensive karat gold, 9, 12 and 15 karat, were legalized to make English jewelry more competitive in the international market.
Manufacturing processes that greatly sped up production began to be applied for use in the jewelry industry. In 1852 a method for cutting and stamping settings, using hand-operated presses, turned out entire pieces of jewelry very quickly and inexpensively. Machine production of jewelry now included costume jewelry made of gilt or pinchbeck with glass imitation gems. The invention of electroplating caused a revolution in costume jewelry manufacture, making it, even more, cost-effective and much faster. All of this innovation resulted in the proliferation of popular designs at all levels of society.
Victorian Diamond and Enamel Snake Bangle Bracelet.
Victorian Algerian Knot Motif Brooch.
When the French conquered Algeria, design elements from their cultures such as tassels, twisted cords, knots, and festoons were imitated in gold and translated into jewelry. In 1848 Sir Austen Henry Laynard published Nineveh and its Remains and jewelers lost no time in adopting these Assyrian styles in their creations. One prominent outcome of this interest was the lotus flower design that captivated Victorians for the next forty years.
Jewelry became a popular souvenir item as the now very mobile Victorians traveled throughout Europe on trains. Italian micromosaics with their colorful tesserae depictions of the classic Roman ruins and pietra dura mosaics with inlaid gemstone themes from nature were snapped up by vacationing Victorians. Lava cameos from the newly excavated Pompeii were set in every type of jewelry for sale to travelers. Swiss enameled plaques were collected and mounted on brooches and necklaces.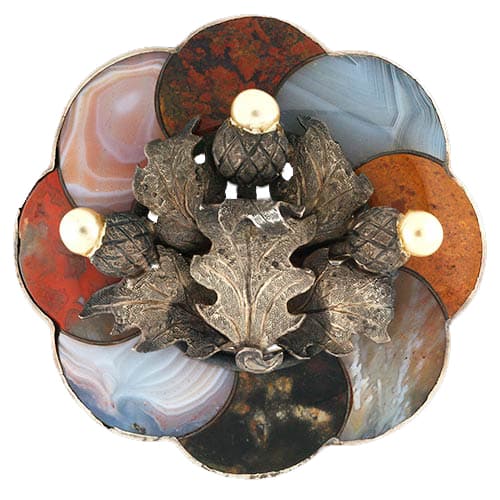 Victorian Agate and Silver Scottish Brooch.
The young Queen traveled to Scotland in 1842 and was treated to a great show of Highland pageantry. Eventually, she purchased the Balmoral Estate and built a home there as a retreat for her family. Adopting the Royal Stuart tartan, the royal family was widely seen wearing their new tartan at State balls, the Great Exhibition and on a State visit to Paris. To augment her highland wardrobe, the Queen began collecting the multi-colored agate jewelry native to the region. Twisted ribbons, chevrons, and scrolls served as inspiration for elaborated engraving and chasing. Thistles, leaves, berries, and swords created primarily in silver and accented with the native Cairngorm, agate, and quartz were desirable souvenir pieces for visitors emulating a fashion popularized by their Queen.
Queen Victoria loved cameos and as a result, cameos enjoyed a resurgence in popularity. Cameos were bigger and bolder than ever before, carved in extremely high relief in onyx, dyed chalcedony, amethyst, and other gems. Large shell cameos with mythological themes and figures along with habillés, shell cameos decorated by gem-set jewelry and inlaid hardstone elements, were new twists on this classic jewelry staple.
Coral was used extensively during this period and remained in vogue until c. 1865. Coral was often worn in its natural branch form, a custom begun in Italy to ward off the evil eye or protect children from danger. Finely carved coral cameos, hands, flowers, crosses and other motifs were also prized. Coral beads in all shapes and color (dark red and pale pink were preferred) were strung around the neck in great volume. Carved coral parures were characteristic of the period.
Victorian Coral Cameo Brooch.
Victorian Seed Pearl Earrings.
Amazing jewelry creations were constructed using mother-of-pearl frames supporting incredibly intricate seed pearl flowers, leaves, and scrolls. Flowers being the most popular seed pearl design during this period, they were often combined with the Prince of Wales feathers or a landscape rendered in hair. Frames to enhance a gemstone were also woven from seed pearls. These impossibly fragile sculptures were composed of minuscule seed pearls from China sewn together with white horsehair (pulled from a living horse). Often entire parures consisting of a dozen or more pieces of incredible delicacy were assembled as bridal jewelry.
Mourning and sentimental jewelry flourished during the Romantic Period and included fabulously intricate jewelry woven completely out of hair. Hair was also used in a painterly style to depict Prince of Wales feathers, ships, landscapes and other sentimental subjects on plaques capped with crystal. Women were encouraged to learn the art so that they could be sure that there was no substitution of their loved one's hair. The art form was so prevalent that a life-sized portrait of Queen Victoria made entirely of hair was constructed for the Paris Exposition in 1855.
Jet from the Yorkshire coast at Whitby had greater elasticity and was stronger than jet from other parts of the world and, as a result, held a better polish and could be more finely carved. Jet was being used to create chains, beads, and carvings for a fashionable mourning period. Imitations such as French Jet, cheaply produced glass imitations, were available to the uninitiated.
Victorian Hair Bow Brooch.
Jewelry of the Romantic Period
| | | |
| --- | --- | --- |
| | EARRINGS | Circa 1837-1840 evening dress dictated long earrings. During the decade incompassing 1840-1850, women wore their hair parted in the middle and wound into intricate creations that covered the ears. This style, along with a fashion for large bonnets, precluded the wearing of earrings during this period and few were produced. When earrings were worn they were long so as to be visible below their covered ears. In the 1850s hair receded from the face and smaller earrings and hoops began to reappear and earrings were once again a jewelry necessity. |
| | TIARAS & FERRONIERES | Ferronières were the romantic Victorian woman's tribute to the Middle Ages and they were worn constantly from 1830 to 1845. These simple chains or cords were worn around the head and suspended a single gem that dangled in the middle of the forehead. Ferronières were worn with or without hats, day and night.Tiaras were styled like a half circle framing the face rather than perched atop the head. Naturalistic designs with flowers, leaves, and berries dominated tiara design until the 1840's when more architectural and gothic designs were produced. Closer to 1860, women began to insert all manner of jewelry into their coiffures. Brooches, pearls, necklaces, aigrettes and decorated hairpins could all be found in the stylish lady's hair. |
| | NECKLACES | Necklaces were worn close to the neck. Snake necklaces with realistic gold scales or pavèd with turquoise coiled close to the neck. Pavé diamond flowerheads and clusters of leaves and berries wound their way around the neck. Elaborate chains interspaced by gems and plaques with a central motif, sometimes suspending a fringe of gems were made in many different combinations. Rivieres, particularly amethyst, strands of pearls, coral beads and cameos were popular necklace styles. Ribbons with buckles and pins were worn on the throat and long gold chains with or without a watch were worn throughout the era. Pendants and lockets were suspended from chains or hung on ribbons and featured insect and floral motifs. |
| | BROOCHES & PINS | Brooches were large and usually had a loop so they could double as a pendant. Large oval or oblong shapes with pendants and tassels covered in diamonds were popular. Extreme sprays of diamond encrusted flowers and large corsage ornaments sometimes featured naturalistic green enameled leaves. Less expensive brooches designed as undulating ribbons with enamel or bows with turquoise and pearls suited the new middle class Victorian of fashion. |
| | BRACELETS | Bracelets were the most popular item during the Romantic period. They were worn in groups, sometimes matched pairs, on the bare wrist during the day, atop gloves in the evening. Coiled serpents with scales and pavéd turquoise for the middle class, sprung bangles with rich blue enamel and diamonds for the well-heeled. Woven pearls and beads, hairwork, ribbons and woven metal mesh bracelets with elaborate clasps, often set with a portrait miniature or cameo, were abundant. Straps and jarretière (garter) bracelets with buckles displayed elaborate enamel and engraving work. Flexible and expansion bracelets gained popularity because they could be made to fit any part of the arm, with or without gloves. |
| | RINGS | Snakes made an appearance in the form of rings as well, made more popular as a result of the Queen's betrothal ring styled as an emerald studded serpent. There were gold rings carved in high relief with figural motifs, half hoop bands gem-set only on the top, strap and buckle motif rings and mourning rings with black enamel. Delicate cluster rings and romantic floral motifs served as love tokens. |
Sources
Becker, Vivienne. Antique and Twentieth Century Jewellery: Second Edition: Colchester, Essex, N.A.G. Press Ltd., 1987.
Bennett, David & Mascetti, Daniela. Understanding Jewellery: Woodbridge, Suffolk, England: Antique Collectors' Club, 2008.
Evans, Joan. A History of Jewellery: 1100-1870: Boston, MA, USA: Boston Book and Art, Publisher, 1970.
Flower Margaret. Victorian Jewellery: South Brunswick, New Jersey: A.S. Barnes and Co., Inc., 1967.
Gere, Charlotte and Rudoe, Judy. Jewellery in the Age of Queen Victoria: A Mirror to the World: London, The British Museum Press, 2010.
Romero, Christie. Warmans Jewelry: Radnor PA: Wallace-Homestead Book Company, 1995.