The genesis of Van Cleef & Arpels was sparked by the marriage of Alfred Van Cleef (son of a stone cutter) and Estelle Arpels (daughter of a precious stone dealer.) in 1896. Both sides of the family worked in the jewellery industry. Alfred's father, Charles, was an esteemed Dutch diamond cutter who moved to Paris during Napoleon III's reign. As a teenager, Alfred apprenticed in the workshop of Messrs. David et Grosgeat and, later, decided to work in sales.1 His wife's family dealt in precious stones. In 1898 and the years after, Estelle's three brothers joined the couple in a new business enterprise, a jewelry salon.2
According to Sarah D. Coffin in the book Set in Style: The Jewelry of Van Cleef & Arpels:
VC&A was founded in 1906 and soon opened its doors at 22, Place Vendôme, not far from Lalique and the Ritz Hotel. While the founders, Alfred van Cleef and his sister Estelle and brother-in-law Charles Arpels, never espoused the Art Nouveau aesthetic, they saw the potential market for high-quality hand craftsmanship combined with the use of precious materials that designers like Faberge and Lalique presented at the Paris exhibition.The success of this production, a natural fit with the Van Cleef and Arpels families' backgrounds in the diamond and gemstone business, provided the initial impetus for the firm's direction. Their aim was to emphasize fine, cut stones as part of the identity of their jewelry. Moreover, the color and use of these stones had a symbolic function influenced by the Symbolist movement, as embodied by the paintings of Odilon Redon.3
In addition to the Place Vendôme flagship address, salons were opened outside of Paris in Nice (1910), Cannes (1921), New York (1939), Monte Carlo (1935), and Palm Beach (1940). Throughout the 20's and 30's, the family's second generation assumed leadership positions. For instance, Alfred and Estelle's daughter, Renée Puissant, served as artistic director from 1926 to 1942. In the 1930s, Estelle's brother Julien also had sons entering the business: Claude, Jacques, and Pierre. By the 1970s, the mantel had again passed to a new generation: Phillipe Arpels and Dominique Hourtouille (Jacques' children) and Caroline Daumen (Pierre's daughter). VCA is now fully owned by Compagnie Financière Richemont SA, a Swiss company that deals in high-end luxury goods.
The firm was known for its geometric, almost Cubist, design aesthetic long before the term "Art Deco" was coined. They refined their abstract geometric presentation throughout the early twentieth century. During the late 1920s and early 1930s, VCA was driven by the newly acquired freedom of fashion exhibited by modern women to produce bolder jewels with richer colors to complement these audacious fashions. Not limiting themselves to wearable jewels, their cigarette boxes, lighters, compacts, minaudières and other accessoires were magnificently crafted pragmatic works of art. Experiments with the exotic materials of the day, their incomparable work with lacquer and enamel and their fearless gemstone combinations led Van Cleef & Arpels to the apex of the jewelry world.
Of Van Cleef & Arpels' numerous contributions to the history of jewellery design, four, in particular, deserve note. The first is the introduction, in 1930, of a new type of accessory: the minaudière. The minaudière is a type of vanity case. Constructed from gold or silver, it takes the form of a box. When opened, it reveals various lady-like essentials: a comb, a case for lipstick, a lighter, small compartments for cigarettes, change, and powder. The inspiration for the design came from a friend and client: Frances Gould, wife of American railroader Jay Gould. Gould apparently rushed to a meeting with Charles Arpels, throwing her necessities into a tin Lucky Strike cigarette case. Arpels took the idea and made it his own. He named it for his wife. The French verb minauder means, roughly, to simper or smile coyly. Madame Van Cleef's simpering, especially at parties, was famous. The minaudière was wildly popular for decades with women carrying them in custom-made fabric pouches.
VCA's second major contribution is a patent, in 1933, for a technique of gemstone setting called invisible setting (serti invisible).4 The setting is named for its appearance. When gems are invisibly set, it appears as if nothing is holding them in place: no prongs, bars, or bezels are visible. One is simply presented with a collection of continuous, geometric gems. As a matter of fact, the gemstones are secured on their undersides by a metal grid into which each stone is fitted and held in place by small grooves. Setting gemstones in this way allowed for a new aesthetic in jewellery design. Many of Van Cleef's signature pieces feature the technique.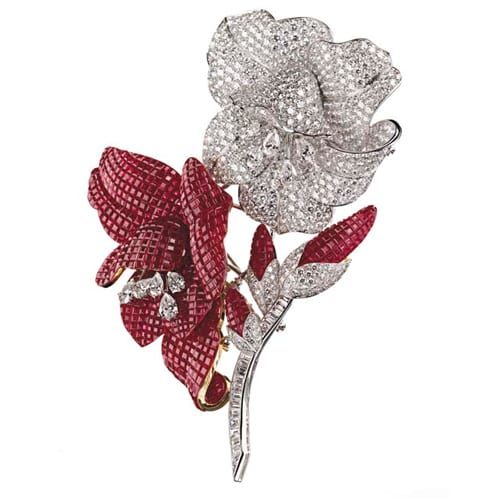 The third contribution is more general, namely, that of being a purveyor of exceptional gems and jewellery. Over the years, Van Cleef has made numerous important acquisitions, including the "Princie Diamond," a historic pink diamond weighing 38.64 carats at the time of acquisition, and Empress Josephine's Tiara. The firm has also created impressive pieces in every design period throughout the twentieth century. In the 1940's, for instance, it created the widely-copied, charming ballerina brooches.
Fourth, Van Cleef started a commercial trend that continues to this day. In 1954, the firm opened boutiques that served as companions to their haute joaillerie salons, greatly expanding their client base. The boutiques offered collections of jewellery that were "young in spirit and reasonably priced" and updated yearly to reflect changing fashions. Other jewellery houses readily adopted this practice.
Famous Clientele. Throughout the decades, Van Cleef won over a clientele that included royalty from several continents (the Duke and Duchess of Windsor, Prince Rainier and Princess Grace of Monaco, King Farouk and the Court of Egypt, the Court of Iran), Hollywood film stars (Gloria Swanson, Marlene Dietrich, Elizabeth Taylor, Sophia Lauren among others) and industrial magnates as well as financiers (the Mellons, the Kennedys, the Vanderbilts, Florence Gould, the Onassis ). The firm was and is still known for creating opulent, impeccably designed and constructed pieces.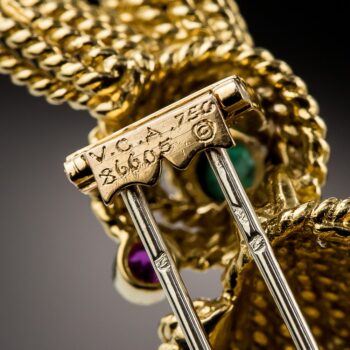 Van Cleef and Arpels
| | |
| --- | --- |
| Country | |
| City | New York NY, Paris |
| Symbol | building, cartouche, diamond, frame, lozenge, obelisk, rhombus |
| Shape | cartouche, diamond, frame, lozenge, rhombus |
| Era | e.1895 |
Description
Specialties
Luxury Watch Company.
Started by Jean-Marc Vacheron (1731-1805).
1770
Created the first complication.
1779
First engine-turned dials.
1785
Abraham Vacheron, Jean-Marc's son, takes over.
1810
Jaques-Barthélemy Vacheron, grandson of Jean-Marc, runs the company.
1819
Jaques-Barthélemy's export expansion requires a business partner.
Partnership established with Francois Constantin and firm was renamed Vacheron et Constantin.
1839
Georges-Auguste Leschot joined the firm and invented standardized caliber watch movements.
1844
Georges-Auguste Leschot invented a pantographic device for engraving small watch parts.
1885
First nonmagnetic timepiece able to withstand magnetic fields.
1887
1970
Company was renamed, dropping the "et" between the names.
1996
Bought out by Richemont Group.
Sources
Coffin, Sarah D., Menkes, Suzy, Peltason, Ruth, Set in Style: The Jewelry of Van Cleef & Arpels. New York: Smithsonian Cooper-Hewitt, National Design Museum, 2011.
Raulet, Sylvie. Van Cleef & Arpels. New York: Rizzoli, 1986.
VCA Website
Richemont Website
Notes