Verdura Maltese Cuff Bracelets.
Fulco Santostefano, Duke of Verdura was born in 1898 into an aristocratic family in Palermo, Italy. Most of his youth was spent in Sicily, and later in Venice, leading a pampered life amid generations old splendor. His fairy tale childhood included a veritable zoo with baboons, a camel and barnyard animals along with the usual domesticated cats and dogs. Elaborate costume parties, the lush surroundings (that included English gardens) and a fascination for Renaissance art all contributed to the development of his keen eye for color and design.
Verdura Multi-Stone Gold Compact.
Photo Courtesy of Sotheby's.
Sapphire, Diamond and Gold Embellished Shell, Verdura.
Photo Courtesy of John Moran
Verdura's wit, erudition, and charm made him a prized guest at high-society parties. Living on a rapidly diminishing inheritance, he flitted about the continent; Europe's glitterati adored him. Indeed, it was a lifelong fortuitous friendship with Linda and Cole Porter that steered him toward his eventual success as a jewelry designer. A party in 1925, thrown by the Porters at their home in Venice, led to his introduction to the already wildly successful Coco Chanel. In 1929 Verdura received an invitation from Chanel, which he readily accepted, to design textiles for her in her Paris workshop. Ultimately, his real talent revealed itself when he redesigned Chanel's jewelry line. His friendship with Chanel and the Porters entrenched him among the hoi poloi of Paris sealing his position in the social strata. Elaborate costume soirees were di riguer in 1920s Paris and Verdura was an avid participant. He is quoted as having said that they were a colorful source of inspiration for his work.
For Chanel Verdura created both costume and precious jewellery, his most notable creation was the Maltese Cross bracelet. As with much of his jewellery, the piece was meant to accent current fashions; but it also makes subtle reference to historical sources. The cross hailed both to war-time medals and also, specifically, to an aristocratic, eleventh-century Catholic fraternity, the Knights of Malta, that adopted the Maltese cross as their emblem.1 It became one of his signature motifs. Rich colours, both in gold and gemstones, were also characteristic of his pieces.
Maltese Cross Brooch set with Colored Gemstones, Verdura.
Photo Courtesy of Christie's.
Maltese Cross Brooch With Central Peridot and Colored Gemstones, Verdura.
Photo Courtesy of Christie's.
Stylized Maltese Cross with Central Pink Tourmaline, Verdura.
Photo Courtesy of Christie's.
In 1934 Verdura traveled to the United States with his friend, Baron Nicholas de Gunzberg, ultimately trekking cross country, at the invitation of Cole Porter, to see Hollywood. Hollywood society embraced Verdura's bold and brazen new style of jewelry. An introduction to the "Jeweler to the Stars," Paul Flato, led to a collaboration and "Verdura for Flato" swept the U.S. from coast to coast. In 1939, financed by friends Cole Porter and Vincent Astor, Verdura opened a jewellery boutique at 712 Fifth Avenue, a location that Cartier had inhabited thirty years earlier. From his recently-imprisoned friend Paul Flato, he inherited a stellar sales staff as well as a famous Hollywood clientele. In the two decades that followed, his success continued to grow. In 1954, Verdura opened a second location in Paris near the Place Vendôme.
Enamel, Red Spinel, Diamond, and Pearl Hot Air Balloon Brooch, Verdura.
Photo Courtesy of Sotheby's.
The 1940's and 50's were Verdura's heyday. During this period Fulco created his most celebrated designs, including voluminous bow and knot motif pieces, puffed heart brooches featuring plush cabochon-cut gemstones wrapped delicately in gold, and massive colored-stone parures. This was also the period in which Verdura introduced his iconic shell-motif jewellery. which often featured actual mollusks embellished with diamonds and wrapped in wire. "What I get a kick out of," he told the New Yorker, "is to buy a shell for five dollars, use half of it, and sell it for twenty-five hundred."2
Verdura's intricate vanity cases, some of which were designed specifically for opening nights of films like The Man Who Came To Dinner (1939) and You'll Never Get Rich(1940) were sought after and coveted. Whimsical sculptural pieces produced by Verdura included an intoxicated snowman in gold, enamel, and sapphire; a set of Indian chessman; a series of medieval knights on horses, complete with chainmail armor; intricately-detailed Blackamoors; a Pleides brooch; a diamond-encrusted swan whose body consists primarily of a baroque pearl; an enamelled and bejewelled elephant carrying a hulking old-mine cut diamond; a bouquet of multi-colored violets inspired by the Victorians; curvaceous Italian putti; and a lush, multi-color, leaf-motif brooch.
Wrapped Heart Brooch, Earrings & RIng with Colored Diamonds, Verdura.
Photo Courtesy of Christie's.
Aquamarine Bead Necklace with Gold Clasp, Verdura.
Photo Courtesy of Christie's.
Pink Topaz Flora and Fauna Motif Clip Brooch, Verdura.
Photo Courtesy of Christie's.
In his later years, Verdura painted miniatures which he set and sold as brooches. His collaboration with Salvador Dali was responsible for some of his more "outspoken" designs including the "Medusa" brooch. Incorporating one of his miniature paintings, the "Medusa" brooch also featured a 73 carat morganite and a frame of gold snakes with flashing ruby eyes. While his work is often compared to that of Tiffany designer Jean Schlumberger, Verdura's pieces are visually softer and less spiky than Schlumberger's; they also play more on historical references. Verdura is also credited with re-introducing the rope-motif into jewellery, a design element that became highly popular thereafter.3
In 1973 Verdura retired to London, selling his business to his associate Joseph Alfono. Ward Landrigan, a long time Verdura devotee purchase the company in 1985 and moved it to its current Fifth Avenue location. The tradition continues today with Nico Landrigan as President, producing high-quality jewelry from the many design sketches envisioned by Verdura during his lifetime.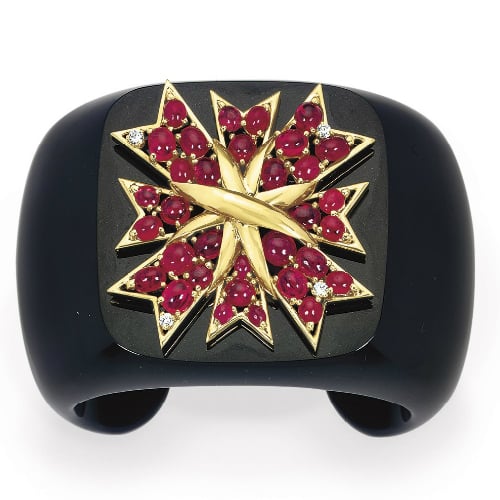 Maltese Bracelet with Ruby Cabochons, Verdura.
Photo Courtesy of Christie's.
18K Gold Pineapple Motif Pendant Watch and Bracelet, Verdura.
Photo Courtesy of Christie's.
Maltese Cross Motif with Paste Gems, Verdura for Chanel.
Photo Courtesy of Christie's.
Maker's Marks and Timeline
Verdura
| | |
| --- | --- |
| Country | |
| City | New York NY |
| Era | e. 1939 |
Description
Specialties
1926
Fulco moves to Paris.
Worked in the textile department of Chanel.
Produced costume jewelry for Chanel.
1935
1939
Opened his own jewelry business in New York
1973
Sold the business to Joseph Alfano and retired.
1978
1985
Verdura Inc. sold to Ward Landrigan.
Influences
Royal Jewels
Byzantine art
The Maltese cross
Notes:
Ibid., 70↩
Cited in Ibid., 114↩
Traina, 139↩