Eminent French jewellery house famous for its Art Nouveau designs. The firm's history dates to 1821 when founder Pierre Vever (1795-1853) opened a jewellery shop in Metz, France. Business flourished and Vever, as his grandson put it, "soon acquired a clientele among the best families, not only from the old French town and its neighbouring regions, but also from Luxembourg and the Rhine provinces. Apprentices, attracted by his reputation, also came from there and became skilled craftsmen and highly regarded masters…"1 In 1848, the business was handed down to Pierre's son, Ernest (1823-1884). A skilled jeweller and designer in his own right, Ernest had studied with his father as well as with various German and Austrian manufacturers. He kept the family store up and running until 1870. When France capitulated to the Germans that year, ending the Franco-Prussian War, he and his family fled Metz. When the Alsace and Lorraine provinces were annexed in 1871, they permanently moved to Paris. The family opened up shop at Rue de la Paix. For the next ten years, they produced beautiful jewellery, mostly in the ancient revival style, and Ernest served on various trade commissions. He also began to train his sons, Paul (1851-1915) and Henri (1854-1942), to take over the firm. Henri, in particular, furthered his design education by attending L'Ecole de Arts Décoratifs and Ecole Nationale de Beaux-Arts, studying drawing, modeling, and ornamental design.2 When Ernest retired in 1881, Maison Vever was in good hands.
Under the Paul and Henri Vever's management, the firm's reputation for fine gem-set jewellery continued to grow. In 1889, the brothers exhibited jewels at Paris's International Exposition for the first time, winning one of two Grand Prizes for gem-set jewellery. After this impressive result, they became regular contributors at international exhibitions including Moscow (1891), Chicago (1893), Brussels (1897). In 1900, the firm won a second Grand Prize at Paris's International Exposition for their exquisite gem-set Art Nouveau jewels.
The firm's Art Nouveau jewellery stands as its finest accomplishment. Its designs featured typical motifs of the era: sultry women, floral and fauna, and mythical creatures. One celebrated example is 'Sylvia,' a pendant depicting a stately female with imposing butterfly wings and antennae. As a rule, Vever's jewellery was constructed in gold. The Vevers—and their guest designers— also tended to use precious stones like diamonds and rubies to embellish their pieces rather than semi-precious and organic gemstones. The most famous of these guest designers was Eugène Grasset whose jewels, according to Vivienne Becker, "were original and spectacular, full of the verve, imagination, and dreamy quality of the best Art Nouveau work."3 The firm also employed expert enamellist Etienne Tourrette, designer Henri Vollet, modeler and chaser Gautrait, and sculptor René Rozet.
In addition to creating fine Art Nouveau jewels, Henri Vever also wrote the most comprehensive tome to date about the history of jewellery production and design in France: French Jewelry of the Nineteenth Century.
Vever Art Nouveau Enamel and Diamond Amphitrite Brooch.
Photo Courtesy of Christie's.
Vever Art Nouveau Ivory, Diamond and Enamel Brooch, c.1900.
Photo Courtesy of Christie's.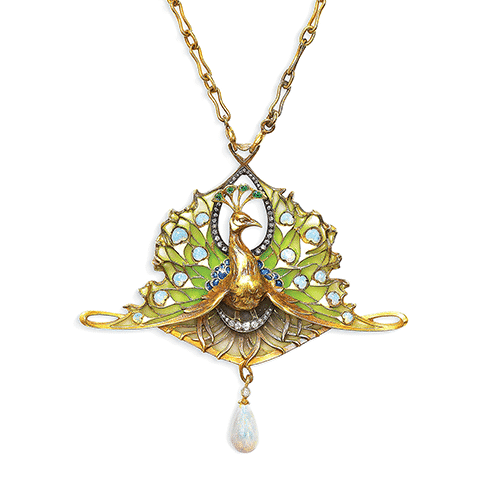 Vever Art Nouveau Opal, Emerald, Diamond, and Enamel Pendant/Brooch, c.1900.
Photo Courtesy of Christie's.
Maker's Marks and Timeline
Vever
| | |
| --- | --- |
| Country | |
| City | Metz, Paris |
| Era | e.1821 |
Description
Specialties
1821
Pierre Paul Vever set up business in Metz.
1848
Jean Jacques "Ernest" inherits the business.
1871
Vever family leaves Metz as it becomes part of the German Empire.
Ernest Vever bought the firm "Baugrand" in Paris (an established Parisian jeweler.)
1874
Sons Paul and Henri become partners in the firm.
1876
The firm registers their mark (used until 1912.)
1881
Ernest Vever retires.
Begin to produce in the Renaissance revival and Oriental styles.
1889
Vever together with Boucheron receive the Grand Prix at the Paris World Exhibition.
1900
World's Fair Grand Prize for their Art Nouveau Style
Henri produced Sylvia – an Art Nouveau pendant of a butterfly-winged female (in the collection of the Musee des Arts Decoratifs in Paris.)
Employed Outside artisans
Etienne Tourette – Enameller.
1908
Publishes La Bijouterie Française au XIXe Siècle.
1915
1921
Henri hands the business to Andre & Pierre – Paul's sons.
1942
1960
Taken over by Jean Vever (grandson of Paul.)
1982
Styles
Art Nouveau.
Renaissance Revival.
Oriental Art.
Sources
Becker, Vivienne, Art Nouveau Jewellery. New York: E.P. Dutton, 1985.
Sataloff, Joseph, Art Nouveau Jewelry: A Practical Guide to Its History and Beauty with Pictures of over 150 Pieces of Jewelry and a Compendium of International Jeweler's Marks. Bryn Mawr, PA: Dorrance and Co., 1984.
Vever, Henri. French Jewelry of the Nineteenth Century. Translated by Katherine Purcell. London: Thames & Hudson, 2001 [1906-8].
Related Articles
Notes:
Vever, 1166↩
Ibid., 1185-6↩
Becker, 69↩