Search
Search our products
OUR SAN FRANCISCO STAFF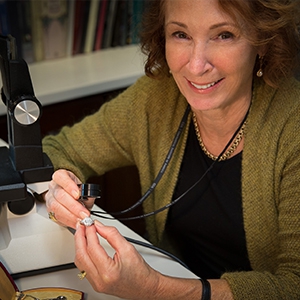 SUZANNE MARTINEZ, GG, CO-OWNER
Suzanne is a highly credentialed senior gemologist, jewelry appraiser, jewelry historian and the curator for our collection. She actively buys from sellers all over the world and in our store. Suzanne is also the founder of our Antique Jewelry University.
Suzanne started collecting rocks and minerals as a child, and by the time she was 13 knew that the jewelry world was her passion. For fun she makes enameled jewelry, studies natural history, Latin American cultural anthropology and goes on gem safaris with Starla.
Suzanne joined Lang in 1992. Her jewelry credentials include:
Graduate Gemologist Diploma received from the Gemological Institute of America in residence at Santa Monica December 1978
GIA Alumni Member since 1981
GIA Alumni Chapter co-president since 1992
GIA Alumni Global committee 1999 - 2005
GIA Global Committee Chair 2005
National Association of Jewelry Appraisers, Senior Member
Accredited Gemologists Association, Accredited Senior Gemologist
Accredited Gemologists Association, Certified Laboratory
The American Society of Jewelry Historians, Member
Association for the Study of Jewelry and Related Arts, Member
American Gem Trade Association, Member
International Colored Stone Association, Member
Revere Academy – Ongoing student of goldsmithing
Media adviser for historical jewelry articles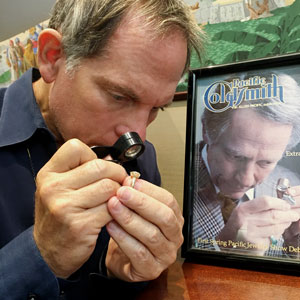 MARK ZIMMELMAN, CO-OWNER
A third generation gem and jewelry dealer originally from Los Angeles, Mark purchased Lang from its founder, Jarmilla Lang, back in 1991. When not traveling the globe in search of rare and beautiful jewels and synonymous adjectives for 'sparkling', he writes most of the jewelry descriptions for our website. He is also responsible, along with Rich Sigberman, for producing our quirky greeting cards.
Mark's history in jewelry includes:
Terrell & Zimmelman, Manufacturers of fine jewelry - at his fathers side
Zimmelman & Sons, Dealers of fine gems and jewelry – Owner with his father and brother
Frances Klein, Fine Estate Jewelry Beverly Hills – Owner since 1995 (the store is now retired)
Owner of Lang Antiques since 1991
Early adopter to the internet with the establishment of langantiques.com circa 2000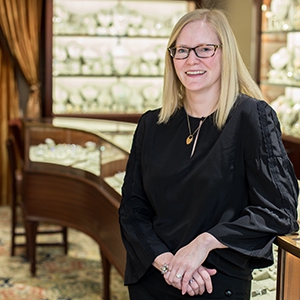 ALISON FLOYD, GG
Alison is our Systems Manager and is responsible for collaborating with our team to manage all aspects of our website including content strategy and development, email campaigns, website design, analytics and web technologies.
Alison joined Lang in 2004. Her education and jewelry credentials include:
BA, in Art History, with Honors received from Hamilton College in 1999
Graduate Gemologist Diploma received from the Gemological Institute of America in residence at New York March 2002
Double Check Diamond Grader, GIA New York Laboratory 2002-2003
The American Society of Jewelry Historians, Member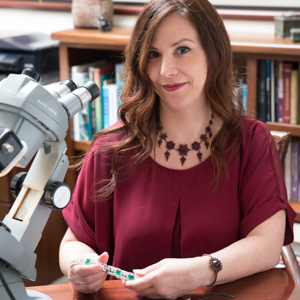 ANGELA GRIGSBY, GG, GJ
Angela has worked in the jewelry business since 2004. She's always had a passion for arts and crafts and found the perfect fit in jewelry. At Lang, she is the Repair/Restoration Manager assessing newly acquired treasures and coordinating their restoration as well as managing customer repairs.
Angela joined Lang in 2008. Her jewelry credentials include:
Bonhams & Butterfields, San Francisco, Fine Jewelry Department Cataloguer
Gemological Institute of America – In Residence – Carlsbad, CA 2003-2004 Graduate Gemologist
Graduate Jeweler
There she also studied Comprehensive Wax Techniques, Jewelry Design Advanced Stone Setting
Recipient of the 2003 Milton Wolf Scholarship Award for Graduate Jeweler program
She started a gemology class at The Crucible in Oakland California where she began making jewelry 2001. It is designed specifically for beginning jewelry makers and gem collectors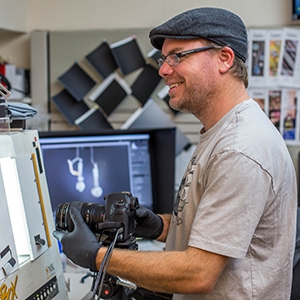 COLE BYBEE
Cole comes to Lang from a varied commercial, academic, and fine art photographic background. His enthusiasm and abilities shine in the incredible photography he does for Lang.
Cole joined Lang in 2010. His education and photographic experience include:
Bachelor of Science Degree in Art and Design from Cal Poly, San Luis Obispo; with an Art History minor from CSU Florence, Italy.
Master of Fine Arts Degree in Photography from Utah State University
Photographer for Solomon R. Guggenheim Museum, Venice, Italy
Exhibition Staff, Australia Council for the Arts, 52nd Venice Biennale, Venice, Italy
Residency and workshop instructor, Kala Art Institute, Berkeley, CA
University Photography Instructor - digital and traditional
Twenty years of commercial photography experience, both freelance and in-house
Commercial work appears in Travel and Leisure, Conde Nast Traveler, Fodors, and Elle
Fine art work held in a number of permanent collections nationally and abroad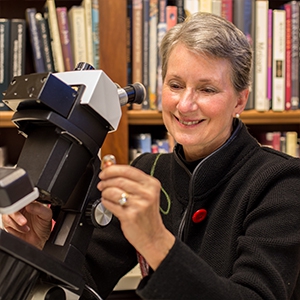 STARLA TURNER, FGA, GG
At Lang, Starla does the gemstone and jewelry grading and identification, the background work. She loves using the microscope all day long to determine the construction and metals of the jewelry, as well as the assessments of the gemstones-a perfect job in her eyes. For fun, she plays competitive soccer, enjoys time with her family, and travels the gem world with Suzanne.
Starla joined Lang in 2012. Her jewelry and education credentials include:
Bachelors in Education from the University of British Colombia
Distinguished (FGA) Fellow of the Gemmological Association of Great Britain 1982
Graduate Gemologist (GG) degree from the Gemological Institute of America 1981
Tutor for the FGA program
Mentor for the GG program
Revere Academy in San Francisco, Instructor of gemology and diamonds for 15 years
Past President of the Global GIA Alumni Association Executive Council (1995 – 2013)
Co- president of the San Francisco chapter of the GIA Alumni Association, since 1992
Gemstone pricing advisor/researcher for an industry publication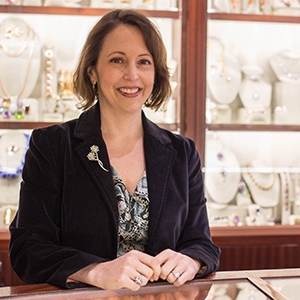 NICOLE CORSINI, GG
At Lang, Nicole answers inquiries and gives expert advice to our out-of-town and international customers considering a special jewelry purchase. In her role as Marketing Manager, she coordinates all our branding and advertising efforts in order to spread the word about our amazing collection.
Nicole joined Lang in 2013. Her credentials and experience include:
Graduate Gemologist, Gemological Institute of America (GIA)
Women's Jewelry Association (WJA), Member
GIA Alumni Member
BS in Business Administration from the University of Delaware, Honors Program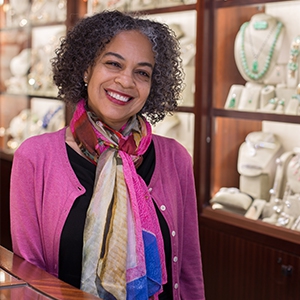 LISA JONES
Ever since designing her first pair of earrings as a 19-year-old college student, Lisa has been a jewelry enthusiast. As Lang's Office Administrator, she helps to keep things running smoothly. Lisa also has the opportunity at Lang to combine her love of beautiful jewelry with her passion for writing about it. Along with the store's co-owner, Mark Zimmelman, she assists with describing Lang's exquisite offerings.
Lisa considers Lang a jewel of a place to work and, since joining the staff, has become smitten with Art Nouveau and Victorian jewelry. Favorite Lisa time activity: settling down in a coffee shop to read or write--even better if it's raining.
Lisa joined Lang in 2015. Her education and jewelry experience include:
BA in Mass Communications from the University of California, Berkeley
Seven years administration experience in jewelry retail
Completion of The Diamond Course through The Diamond Council of America
Jewelry design and repair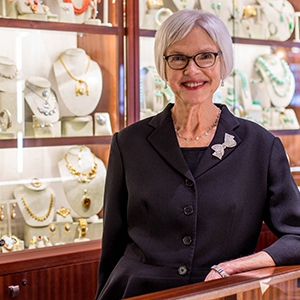 KAYE RODDEN
Kaye brings thirty three years of experience in the fine jewelry business to Lang. She began her career in the wholesale jewelry importing business at Sue Trading Company in 1980. She later managed that company for four years. In 1987, she began as a design consultant at the Union Street Goldsmith, a designer jewelry store specializing in custom design. Kaye has always been moved by good design and fine gemstones and has a passion for pairing a beautiful piece with just the right person. She truly believes that jewelry is meant to give us pleasure. When you pick the right piece it will bring years of joy. In her spare time, Kaye enjoys music and dance. She is a singer-songwriter that performs occasionally in the Bay Area. She loves Zumba and is passionate about many forms of dance.
Kaye joined Lang in 2015. Her credentials and experience include:
B.A.in Psychology from San Francisco State University
Diamond Grading Certificate received from the Gemological Institute of America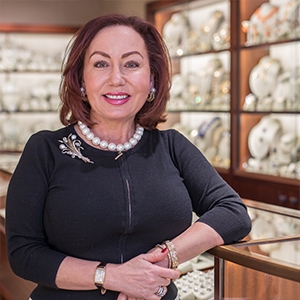 NATALIA EKCHENGUER
Natalia is an exuberant Sales Professional who loves to match that special jewel with that special person. She considers herself an Engagement Ring Specialist and we agree. Her infectious personality makes your buying experience effortless.
Natalia joined Lang in 2015. Her education and experience include:
Graduated from Commercial (Foreign Trade) University in Russia
17 Years experience with Estate Jewelry
Fluent in Russian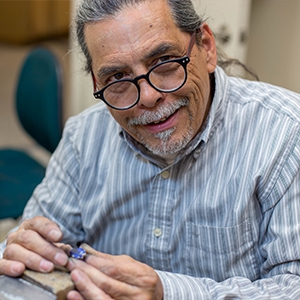 LANCE CAMPBELL
Our in-house master goldsmith Lance has a staggering 46 years experience in jewelry design, manufacturing and repair. Lance will make sure your acquisition will be up to the highest standards of craftsmanship and durability. From humble beginnings as a silversmith at an Indian trading post to 22 years as master jeweler at David Clay, then the premium destination for custom jewelry in San Francisco, Lance has developed himself into a recognized master in his profession.
Lance joined Lang in 2016, his credentials include:
Thanks to 24 years of Lance working there, Adobe Trading Post morphed into Robinson Fine Jewelry
22 years as master jeweler at David Clay in San Francisco
Expert on platinum work, engraving, stone setting and jewelry repair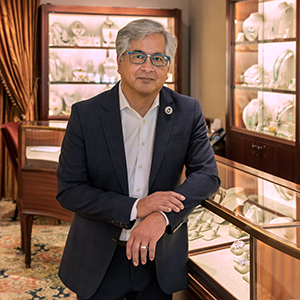 EDWARD RODRIGUEZ
Ed comes to us with over 20 years in the jewelry industry. An expert in custom design, stone buying and engagement rings, he has a new-found passion for all things vintage. Ed is a lover of pugs and an avid gardener. San Francisco has been his home for the last 30 years.
Ed joined Lang in 2017. His jewelry and business experience include:
Multi-Level Management for a contemporary fine jewelry salon
Small business owner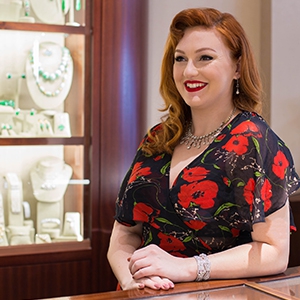 EMILY FRIEDRICKS
Emily is our Internet Sales Specialist and Instagram Content Creator. Her enthusiasm for helping our clients discover the world of antique jewels is infectious. Emily's background is in the luxury beauty industry, where she developed a strong eye for playing with color and flattering the face and form. Her passion for decorative history was ignited at a young age by her late grandmother who curated at the Fine Arts Museums of San Francisco. Emily savors the challenge of finding fresh ways to style antique pieces, and is known for wearing diamond brooches in her hair.
Emily joined Lang in 2017. Her credentials include:
9 years of luxury retail experience
Licensed Esthetician in the State of California
Former professional Makeup Artist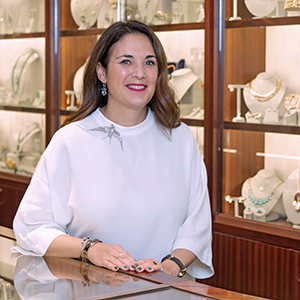 TRACEY MCGRATH
Tracey works in sales with a special focus on supporting our online customers, which she does with exceptional patience, kindness, and humor. Her extensive background and expertise in antiques and vintage clothing has sharpened her eye for matching pieces with customers' interests and style preferences. Tracey is particularly enamored with Victorian and Retro styles and is always finding her "new favorite thing" at Lang.
Although fluent in Portuguese, Tracey easily woos our clients with her lovely English accent and delightful manner.
Tracey joined Lang in 2018. Her experience includes:
Seven years in antique sales
Financial management for Lloyds Bank in London, England
High-tech professional services at various firms in the United Kingdom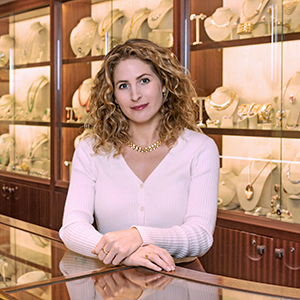 MOLLY ZIMMELMAN, GG
Molly represents the fourth generation of her family in the jewelry business, and some of her earliest memories take place at Lang. After spending three years living in Rome, and ten years in New York, where she earned her Masters of Fine Arts in Theater and was part of the avant-garde off-Broadway theater scene, Molly began working at Lang as a sales associate and currently works as part of the repair/restoration team helping to ensure that each piece of jewelry is ready for a new lifetime. In her free time, you may find Molly perusing antique markets, or reading a play, ideally while eating a plate of spaghetti amatriciana.
Molly joined Lang in 2019. Her education and jewelry credentials include:
Graduate Gemologist, Gemological Institute of America, New York campus
Certified Pearl Specialist (CPAA), Pearls as One/Cultured Pearls Association of America
Member of Women's Jewelry Association, Association for the Study of Jewelry and Related Arts, GIA Alumni
Ongoing study of jewelry fabrication and wax casting
Masters of Fine Arts in Theater from Sarah Lawrence College in Bronxville, NY
Italian language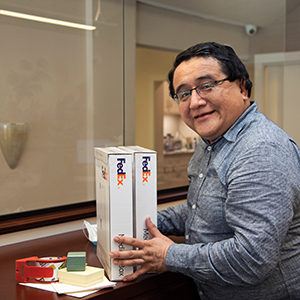 MARK GARCIA
Those jewelry orders aren't going to get to our clients by themselves. That's where Mark Garcia comes in. Mark is our Shipping Manager, or more aptly described as our Shipping Master.
Working with major shipping carriers, including FedEx, USPS, and armored services, Mark understands all aspects of shipping and provides outstanding customer service. Whether shipping products in-state, within the U.S., or throughout the world, Mark ensures that your package is delivered promptly and securely. He also has more experience tracking any storm that would delay your shipment than your local TV weather person.
Away from Lang, Mark loves to play tennis, and works as a pro tennis instructor during the summer. He is also a faith-healer (medicine man) in his Native American tribe and loves anything and everything Japanese.
Mark joined Lang in 2020. His experience includes:
30 years in shipping/logistics
Management in both retail and warehouse settings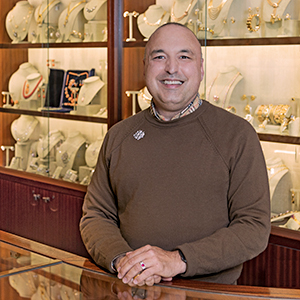 TONY GARGIULO, GG
A native or Palm Beach, Florida, Tony has 16 years of experience in the jewelry business. His passion for jewelry and gems stems back to his childhood when he would play with crystals and rocks, and is inspired by his world travels.. Tony exudes his love of jewelry every time he shows a beautiful piece; at Lang, that's all the time!
One of his greatest joys is traveling and exploring the beauty of the world.
Tony joined Lang in 2021. His education and experience include:
B.S. in Public Relations from the University of Florida
Graduate Gemologist degree from The Gemological Institute of America (GIA)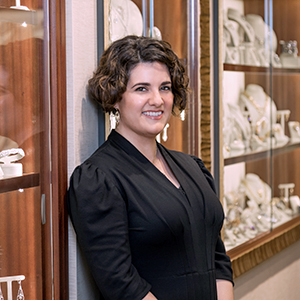 ELIZABETH WOOLF-WILLIS, GG
Elizabeth is one of our excellent Sales Professionals who is always ready—and excited—to help you find your perfect piece. She comes to us with seven years of experience in the jewelry industry, with past jobs ranging from marketing with a fine jewelry designer in Los Angeles, to a stint at Tiffany & Co. in Beverly Hills. Elizabeth received a BA in Art History with a minor in Philosophy from Scripps College, during which time she studied abroad in Florence, Italy. She has always been interested in design, human creativity, and the historical objects through which people express their artistry. Lang provides the ideal environment for her experience and passions, which she loves to share with customers.
A recent transplant to San Francisco, she spends her free time discovering the incredible parks, museums, and restaurants that the Bay Area has to offer.
Elizabeth joined Lang in 2021. Her experience and credentials include:
BA in Art History from Scripps College in Claremont, CA 2011
Semester at the Syracuse University Florence campus, Italy 2010
Graduate Gemologist Diploma received from Gemological Institute of America in-residence in Carlsbad, CA 2012
OUR ANTIQUE JEWELRY UNIVERSITY STAFF
MARY BORCHERT
Mary is a GIA Graduate Jeweler/Gemologist with many years of experience in the auction world, where she studied tens of thousands of pieces of antique jewelry firsthand. Her unique non-jewelry skill set from inventory management, computer database design to computer programming complements her position as developer, writer and database designer with Antique Jewelry University.
Mary joined Frances Klein Classic Jewels in 2004 and antiquejewelryuniversity.com in 2008. Her Education and jewelry experience include:
B.S. Criminal Justice and European History
Graduate Jeweler/Gemologist (GJG) Diploma received from the Gemological Institute of America (GIA) in residence at Santa Monica
Software Designer, GIA-Net Systems Operator and Course Development Programmer
Gemological Institute of America
Insurance Replacement Appraisal, Pearls, Detecting Treated Emerald, Ruby & Sapphire, Detecting Fracture Filled & Synthetic Diamonds, Identifying Challenging Synthetics, Counter Sketching and Pearl & Bead Stringing Certifications received from the Gemological Institute of America
Want to join our team? Check out our open positions.