Search
Search our products

Flora, fauna, hearts, crescents, knots, stars, and just about any gemstone they could get their hands on…you name it, and the Victorians probably used it in their jewelry! These diverse gems show the most eclectic mix of motifs of any period in our inventory.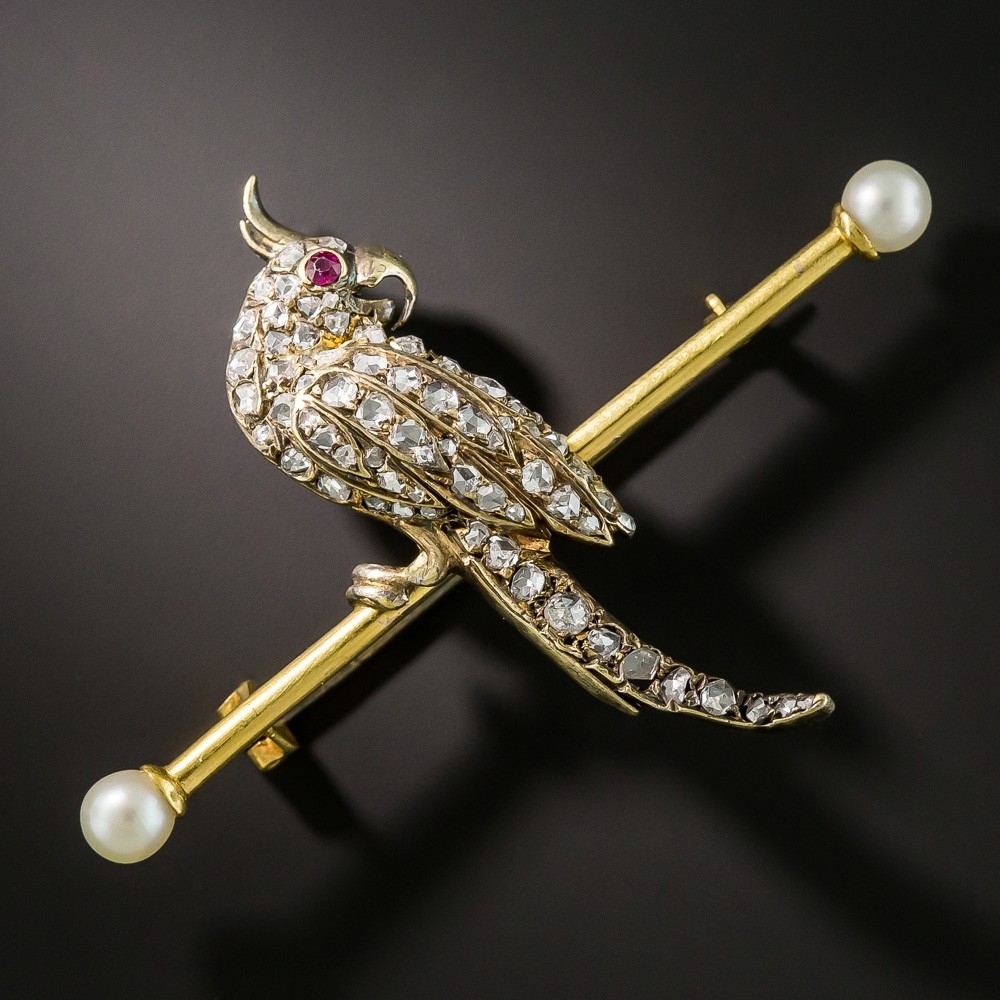 Victorian Cockatiel Pin
The young Queen Victoria took the throne in 1837. A great lover of jewelry, she became the trendsetter for gems both in her own country and abroad. New popular media spread the styles wider and faster than ever before.
While Victorian jewelry is definitely diverse, it's still recognizable by motifs that repeat in endless variation. Romantic shapes, elaborate details, parures (sets of matching jewels), cluster rings, and bands of matching stones not unlike today's "stacking rings" are all typical of Victorian jewelry. Among the precious metals, Victorian jewelers loved rich and sunshiny yellow gold, sometimes topped with silver to accentuate the diamonds.



Diamond and Onyx Barrette




Victorian Diamond and Pearl Tiara Pin




Victorian Sapphire and Diamond Ring
The engagement ring presented to Queen Victoria by Prince Albert was a snake with an emerald—her birthstone—set in its head. Before the dominance of the diamond solitaire, birthstones were popular for engagement rings, and this official first engagement ring of the era increased the appeal of the snake theme as well—still beloved by many antique jewelry fans.



Antique Diamond and Ruby Double Snake Ring




15ct Victorian Turquoise Snake Bracelet




Victorian Enamel, Diamond and Natural Pearl Snake Bracelet
Sentimental symbolism carried over from the previous Georgian era, especially in a proliferation of lovely and complex knot rings, lockets, miniatures, and a wide range of other expertly wrought details. During a time of social restriction and restraint, Victorian emotions found an outlet in jewelry that said things its givers and receivers couldn't.



Victorian Black Enamel Bracelet, Brooch and Ring Suite




French Antique Blue Enamel Diamond Pendant/Brooch




Victorian Coral Necklace with Heart Locket
So whatever your personal style, it's likely that the Victorians made something to fit your taste. We've shown you a few of our favorites, but there are far too many examples to include here! Learn more about the Victorian Era and the history of Victorian jewelry on our sister site, Antique Jewelry University.



Bohemian Garnet Drop Earrings




Victorian Garnet and Enamel Bracelet




Victorian Turquoise Pave Drop Earrings




Victorian Diamond Starburst Pendant




Mid-19th Century Bacchante Cameo Brooch




Victorian Garnet, Ruby and Diamond Locket