Aretha Franklin, the Queen of Soul, sang passionately about her conflicted participation in a "Chain of Fools." Here at Lang, we confess–we are fools for chains! How could we not be? Curious how a series of metal links connected one to another can be so utilitarian in function, a highly desirable object of adornment, and, sometimes, both at once. From ancient Mesopotamian queens to contemporary rap artists, chains endure as an essential element of decoration, one available in seemingly endless variation. Find the style that suits your taste and join our company of willing fools.
Gold chain recovered from the royal cemetery of Ur, Iraq (ancient Mesopotamia) 2550-2450 BCE. Photograph by Mary Harrsh. Photographed at the University of Pennsylvania Museum of Archaeology and Anthropology.
This early-20-century chain (measuring just shy of five feet long!) features ornate links that pop with juicy color courtesy of forest-green cabochon chrysoprase, because it's so much fun to be fancy
Take your magnification to another level with this lavishly decorated Art Deco lorgnette (1.50 readers are so humdrum). This exquisite reading assistant/pendant suspends from an intricately fashioned openwork chain, perfect for draping your neck once, twice, or three times. Fabulous form and function.
Not all chains are open links. This ravishing Retro choker is fashioned with twisted strands of tubogas, which translates literally to "gas pipe." An innovation that was especially popular during WWII when jewelry materials were scarce, it is formed by interlocking gold strips tightly wrapped together.
According to Coco Chanel, "A woman should always be two things: classy and fabulous." Pictured here with French dancer Jacques Chazot at her Spring-Summer Collection presentation in Paris, 1958, it's clear that chains are part of the classy equation.
Queen Victoria's husband, Prince Albert (seen above striking a pose), was a dapper guy and well-accessorized. The single watch chain—the Albert chain– was named after the prince who used it to easily access his pocket watch while looking very cool in the process. This one has geometric Industrial Revolution-era links and is finished with a T-bar and swivel clasp. No pocket watch? It also makes an intriguing necklace.
Diamonds interrupted. This glorious 37-inch-long platinum chain of sparkling bezel-set diamonds is beautifully punctuated by 11 sky-blue cushion-cut aquamarines. Fun and festive, wear it full flapper length or doubled.
Back in the day, way back in the 16th century, King Henry VIII gave our modern-day rappers a run for their money. So fond was he of gold chains that he often gave them out as favors and, among his many other accoutrements, wore them himself. Note the impressive beauty in this photo, stylishly layered underneath the Collar of the Garter, an ornate chain of gold set with precious stones symbolizing membership in a chivalric order.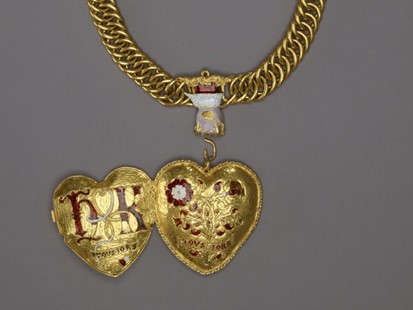 Wow! Discovered in 2019 by an amateur metal detectorist in England, this necklace is over 500 years old and is very likely associated with King Henry VIII. The clues? It features an intertwined red-and-white Tudor rose and a pomegranate which was the badge of the king's wife Katherine (the first of six), and the initials "H" and "K." As is befitting, its impressive chain is made up of 75 gold links that, together, weigh more than half a pound! Talk about heavy metal.
Ancient artistry. This Victorian pendant suspends from a Venetian-style chain– interlocking links of flat folded metal resembling the binding of a book (hence, it is also called a book chain). A work of art unto itself, the chain is embellished with fine granulation and filigree, design techniques prevalent during the 7th – 3rd centuries B.C.
Chains are an equal opportunity adornment. To prevent neck envy, wrap your wrist with a sumptuous and weighty curb link bracelet such as this Mid-Century beauty. Coco would approve!
Smitten? Learn more about the history and evolution of this fascinating adornment in our AJU chain article.
Carrera y Carrera Diamond 'Sol y Sombra' Necklace and Bracelet Suite

Lots of sparkling sunshine (sol), little if any shadow (sombra) beams brightly from both sides of the seventeen golden double-sided pavé-set diamond suns, in th…

Mid-Century Gold Woven Braid Necklace

The only thing better than a classic mid-century gaspipe necklace are three gaspipe necklaces woven together to create this braided beauty rendered in lithe and…

Victorian Long Chain With Hand Clasp

Four-and-a-half-feet long (54 inches)! and extra-lovely, this rare and wonderful mid-Victorian neck chain is lightly crafted in gleaming 18K yellow gold, and is…