The term garnet applies to a group of minerals with six main varieties. The varieties differ in chemical composition and color but share the same crystal system. These varieties are:
Almandine
Pyrope
Grossular
Spessartite
Uvarovite
Andradite
While most people think of garnets as red, it occurs they almost every color. The rarest is blue. Garnets are can be found throughout the world. The United States, Brazil, Canada, Germany, Russia, Madagascar, Tanzania, Kenya, and India have produced abundant amounts.
A Brief History of Garnet
Garnets have been widely known for thousands of years and are found in jewelry from ancient Egyptian, Greek, and Roman eras. The Greeks called garnets "nuktalopos" meaning "lamp stone". They believed that wearing a garnet around the neck gave one the ability to see in the dark.
​Noah, it is reported in one biblical legend, used a lantern made from garnets in order to safely steer his Ark through the darkness of the night. Cabochon cut garnets have been very important in Christianity, often used to represent Christ's passion and martyrdom.
During the Middle ages, garnets were used to protect against the plague, eliminate sadness, and prevent evil thoughts. And when hung around the neck, garnets were a sure cure for indigestion and sore throats.
Garnet is the birthstone for January and the gem to commemorate the 2nd Anniversary.
Meet the Family
Astutely observed by Mab Wilson, author of Gems:
Most of us, having been brainwashed by the dark and depressing parures of the turn of the century, forget the many beautiful colors garnets can have. Badly cut, a garnet can indeed be a melancholy object, lugubriously red and usually in a brown study; but a clear and well-cut garnet can be bright as a zinnia, as dark as a bottle of red ink, as green as an emerald or the very green of a dew-moistened leaf of the lily of the valley.1
Garnets, with their wide range of colors and varieties, have long been an important gem material throughout history with research dating their use back to the earliest known civilisations.
The name garnet is derived from the Latin word granatas, meaning grain or seed. Historically the red varieties of this gemstone, which resemble the seeds of a pomegranate in color, were referred to as garnets. The term garnet has come to refer to the whole family of minerals that crystallize in the cubic system and share the same chemical blueprint. The elements used to fill that blueprint place a gem garnet into one or more of the following:
Common Garnet Names and Colors:
| Garnet Variety | Color |
| --- | --- |
| Almandine: | Red with Violet Tint |
| Andradite: | Yellow, Green, Brown & Black |
| Demantoid: | Bright Green |
| Melanite: | Opaque Black |
| Topazolite: | Lemon-Yellow |
| Hydrogrossular: | Translucent to Opaque Green, Pink, White |
| Grossular: | Green, Yellow, Copper-Brown |
| Hessonite: | Brown-Orange |
| Tsavorite: | Intense Green |
| Leuco Garnet: | Colorless |
| Mali: | Yellow-Green to Yellow-Brown |
| Malaya: | Pinkish, Reddish or Yellowish Orange |
| Pyrope: | Dark Red to Reddish Orange |
| Anthill: | |
| Rhodolite: | Purplish Red to Reddish Purple |
| Spessartine: | Yellowish Orange to Red-Brown |
| Mandarin: | Intense Orange-Yellow |
| Uvarovite: | Emerald Green |
Garnets have been used, wherever they occur, for as long as mankind can remember. From predynastic Egypt to the discovery and hype of Fanta orange garnets in Tanzania in 2007, garnets have never ceased to capture our attention. The Roman writer Pliny mentions gemstones called carbuncles, some of which are thought to be garnets. The red family member, almandine, was a very popular gemstone with the Germanic tribes that inhabited northern Europe during Roman times. They were used for cloisonné inlay work of which items found at Sutton Hoo are a great example.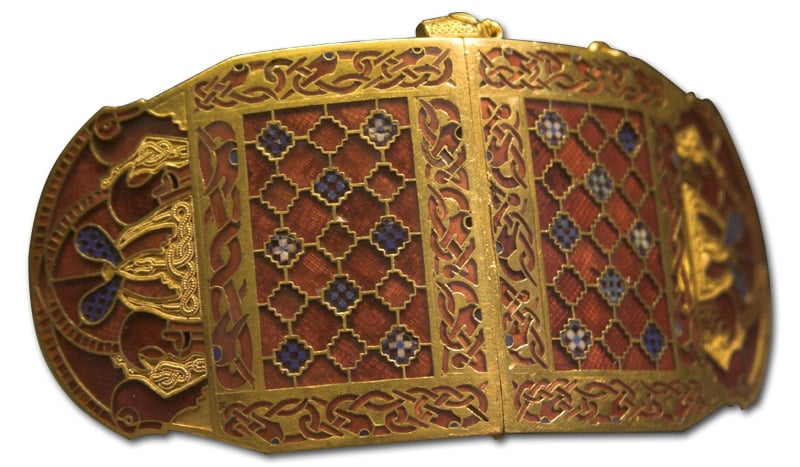 During the Victorian era garnets were extremely fashionable; rose-cut garnets from the Czech Republic often covered entire jewelry items. These garnets are better known as Bohemian Garnets after the area they were mined: Bohemia.
Andradite was discovered in the Ural Mountains of Russia circa 1853. This distinctively bright green garnet was given the name demantoid in 1878. It quickly became a "hot" gemstone punctuating 'turn of the century' jewelry.
In the last quarter of the 20th century, various additional garnet varieties have been found in Africa.
Victorian-Style Cabochon Garnet Dangle Earrings

Time for some totally terrific, head-tossing--and tinkling--earrings. Yes, you will want to shake your head from side to side just so that these jubilant jewels…

Orange Hessonite Garnet and Diamond Halo Ring

Garnets never cease to amaze; here is yet another outstanding stone. A 16.70-carat hessonite garnet--gleaming and glowing with glorious shades of honey gold and…

Antique Demantoid Garnet and Diamond Salamander Brooch

Over 2 1/2 inches long and lovely, this fine amphibian friend glitters all over with rich yellow-green demantoid garnets and a center stripe of sparkling white…
Gemological Information for Garnet
| | |
| --- | --- |
| | |
| Color: | All Colors |
| Crystal Structure: | Cubic |
| Refractive Index: | 1.74-1.89 |
| Durability: | Good |
| Hardness: | 6.6-7.5 |
| Family: | 6.6-7.5 |
| Similar Stones: | Colored Synthetics Such as: CZ, YAG, GGG |
| Treatments: | Usually Not Treated |
| Country of Origin: | Worldwide |
Garnet Care
| | |
| --- | --- |
| | |
| Ultrasonic Cleaning: | Safe |
| Steam Cleaning: | Safe |
| Warm Soapy Water: | Safe |
| Chemical Attack: | Avoid |
| Light Sensitivity: | Stable |
| Heat Sensitivity: | Stable |
Sources
Wilson, Mab. Gems. New York, NY.:The Viking Press, 1967.
Further Resources
Gems & Gemology: The Quarterly Journal of The Gemological Institute of America.
Garnet:
July-Aug. 1934, Unusual Garnets, p. 125, 2pp.
Summer 1945, Absorption Spectra of Pyrope Garnet, by Anderson, p. 232, 2pp.
Fall 1945, p. 257, 2pp. #3: Spring 1946, p. 301, 3pp.
Summer 1947, Distinction Between Garnet and Corundum, p. 435, 1p.
Fall 1947, The Garnet. Past and Present, p. 465, 3pp.
Spring 1948, Pyrandine, A New Name For An Old Garnet, by Anderson, p. 27, 1p.
Winter 1950, Garnet Produced from Madagascar, p. 378, 2pp.
Summer 1953, Demantoid, by Ehrmann, p. 317, 1p.
Summer 1954, Third Find of Rhodolite Garnet; Discovered in Greenland by John Sinkankas, p. 63, 1p.
Fall 1960, A 19.65 ct. Hessonite Garnet (showing absorption spectrum), p. 72, 1p.
Fall 1960, Cat's-Eye Demantoid, p. 92, 1p.
Fall 1962, A Ruby Red 16 ct. Chrome Pyrope (Showing Absorption Spectrum), p. 339, 1p.
Spring 1963, Pink Grossularite Garnet, p. 23, 2pp.
Summer 1963, Massive Grossularite from S. Africa, by Webster, p. 35, 4pp.
Summer 1966, Hydrogrossularite Garnet from the Transvaal, p. 49, 9pp.
Fall 1966, p. 74, 4pp.
Winter 1966, A 17 ct. Faceted Uvarovite Garnet (Showing Absorption Spectrum), p. 113, 2pp.
Spring 1968, A Ruby Red 4.27 ct. Chrome Pyrope, p. 279, 1p.
Winter 1968, Transparent Green Grossularite, p. 375, 1p.
Spring 1969, Tanzanian Garnets, p. 15, 2pp.
Summer 1969, Emerald-Green Grossularite Garnet, p. 58, 1p.
Summer 1969, A 2-Phase Inclusion in Garnet (First Seen), p. 67, 2pp.
Winter 1969, A fine 6 ct. Demantoid Garnet Showing Horsetail Inclusions, p. 121, 2pp.
Spring 1970, New Transparent Green Grossularite Inclusions, p. 151, 2pp.
Spring 1970, Alexandrite-Like Garnet from Tanzania, p. 162, 1p.
Summer 1970, A Rare Alexandrite Garnet from Tanzania, p. 174, 4pp.
Summer 1970, Spessartite Garnet Inclusions, p. 189, 1p.
Summer 1970, Spessartite Absorption Spectrum, p. 197, 2pp.
Summer 1970, Grossularite Garnet Inclusions, p. 196, 2pp.
Fall 1970, Testing Demantoid with Ultra-Violet Light, p. 226, 2pp.
Fall 1970, New Transparent Colorless Grossularite from Tanzania, p. 227, 3pp.
Fall 1970, Alexandrite Garnet from Norway, p. 229, 1p.
Fall 1971, A Massive Hydrogrossular Garnet Cut in Cabochon (One end Pink, the Other End Green) (Showing Absorption Spectrum), p. 354, 3pp.
Summer 1972, Two Unusual Rhodolite Property Variations, p. 40, 1p.
Spring 1973, A Typical Demantoid Inclusion, p. 150, 1p.
Summer 1974, Green Grossularite Garnets, "Tsavorites" on the Kenya-Tanzania Border, p. 290, 6pp.
Summer 1974, Composition of "Tsavorites" from Kenya and Tanzania, by Switzer, p. 296, 2pp.
Fall 1974, Jewelry Repair Involving Garnet and Glass Doublets, Dangerous, p. 344, 2pp.
Fall 1974, Some Unusual Inclusions in Hessonite and Rhodolite, p. 349, 2pp.
Winter 1978, Blue to Red Colour Changing Garnet from East Africa, p. 122, 2pp.
Winter 1978, Demantoid Garnet from Korea; Alexandrite Garnet from East Africa, p. 123, 3pp.
Summer 1979, Colorless and Green Grossularite from Tanzania, by Pieter Muije, p. 162, 12pp.
Fall 1979, Unusual Gem Garnets of East Africa, p. 218, 2pp.
Notes
Wilson P 115.↵