Mauboussin is a French jewellery firm famous for its Art Deco and Retro jewellery and objects. Though its roots go back to 1827, the firm first gained international acclaim in the 1920s. Its rise into the ranks of Parisian fine jewellers is attributed to Georges Mauboussin, an enterprising and talented jeweller who entered his uncle's firm, Noury, as an apprentice in 1877. Soon Mauboussin became a partner and in 1903, he became the sole proprietor.1 After moving and expanding the firm's Paris location, Mauboussin began to extend its international presence, setting up boutiques and exhibiting jewellery all over the world.
In 1925, the firm won its first great breakthrough: a Grand Prize for jewellery at Paris's Decorative Arts Exhibition—a coup, given the competition. The firm thereafter moved to 20 Place Vendôme, where its flagship store remains today.
In its heyday, Mauboussin was known for its chunky floral-motif brooches, pendants, and bracelets, often featuring bright enamels, diamonds, and brightly colored gemstones. The firm's important gem acquisitions include the 80-carat Nassak diamond, purchased from the Duke of Westminster in the early 1920s. On October 1st of 1929, the firm opened a branch in New York City. When the stock market crashed less than one month later, it sold the location to the American firm Trabert & Hoeffer. Under the name, Trabert & Hoeffer-Mauboussin, the firm expanded, opening branches in Atlantic City, Los Angeles, Miami, and Palm Beach and provided starlets like Marlene Dietrich and Paulette Godard with eye-popping Art Deco and Retro jewels.2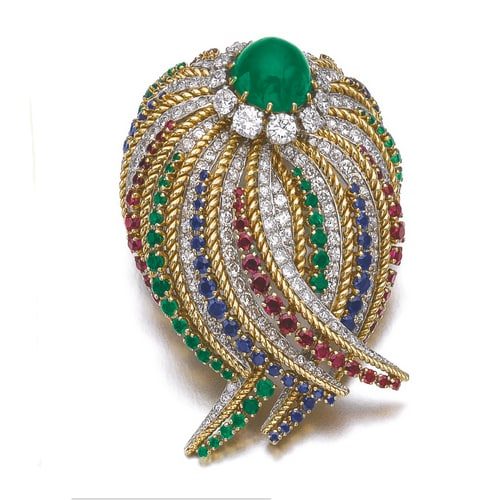 Mauboussin
| | |
| --- | --- |
| Country | |
| City | Paris |
| Era | e.1827 |
Description
Specialties
1827
M. Rocher, artisan jeweler, establishes jewelry shop with Jean-Baptiste Noury.
1873-1878
Participation in Expositions in Vienna and Paris.
Mauboussin is given a medal in Paris, 1878.
1925
Exposition des Arts Décoratifs, Paris
Grad Prix for the House of Mauboussin.
1928-1931
A trio of gemstone-themed exhibitions.

1928 Emerald
1930 Ruby
1931 Diamond
1940-1950
Gaspipe style using minimal gold.
Naturalist themes.
1955
Opens in Place Vendome.
Mauboussin has retail locations around the world.
Sources
Gabaroi, Melissa. Art Deco Jewellery: 1920-1949. Norfolk: Antique Collectors Club, 1989.
Traina, John. Extraordinary Jewels. New York: Double Day, 1994.
Notes
Gabaroi, 94.↵
Traina, 99.↵