Clarifying Classifications
"What's in a name? That which we call a rose by any other name would smell just as sweet." Oh, so true, Mr. Shakespeare. However, when it comes to nailing down jewelry classifications, we want to be as precise as possible.
If you regularly peruse Lang's site (and we know you do!), you have noticed that, in addition to calling out the specific eras for our jewelry, we also use the descriptors "antique," "vintage," and "estate." Jewelry aficionado that you are, we don't want you bandying about terms indiscriminately, we want you to know how to use them with properly informed authority and confidence. This post will help you do just that. Are you ready to Learn with Lang?
Artistry Across the Lines
Before we delve into definitions, we must confess that it is not always possible to attribute a specific era to a piece of jewelry—there is quite a bit of crossover. Some styles that started in the late 19th century, continued to be made for 50+ years. A testament to distinctive designs that resonate with jewelry lovers from decade to decade. 
 For these hard-to-pin-down pieces, we use more general categories. Circa (Latin for "around") means +/- ten years of the stated date. For example, circa 1910 means that the piece could have been created as early as 1900 and as late as 1920.  Lang uses the term "circa 1900" for pieces that straddle the late-Victorian/Art Nouveau/Edwardian periods, and "Mid-Century" for those transitional late-Art Deco/Retro/1960s pieces.
 Our highly trained staff of expert gemologists, using the conventional terms of the jewelry trade, identify the period of creation for each piece of jewelry as closely as it is reasonably possible.
"Vintage" has several meanings. The year of a season's yield of grapes or wine from a vineyard is its vintage, as is the period of origin or manufacture for an item, for example, a lamp of 1895 vintage. The term is also used to describe the best or most characteristic of someone or something as in, "Wow, her flower-print mini dress is vintage 1960s!" Lang uses "vintage" along with a specific decade to designate more recent eras that don't have a specific design name, e.g., a 1980s vintage cocktail ring, or a 1990s vintage gold chain necklace. 
While it sounds quite grand, "estate" is just another way of saying "previously owned." If you pick up a treasure from a garage sale, whether it is an antique vase or a contemporary beaded bracelet, they are both estate pieces—in other words, previously owned. We use the term "estate" to refer to the more contemporary jewelry in our collection that Includes modern designs and signed designer pieces. Most of our estate pieces date from 1980 to today.
Style & Inspired
 This category includes jewelry that is crafted in the style of other eras. For example, a contemporary piece could have strong design characteristics of the Edwardian era. Such a piece would be an estate piece described as having an "Edwardian style" or as "Edwardian-inspired." Curated with the same care as our older pieces, these estate jewels have their own allure—they're just a bit younger than their authentic counterparts!  Jewelry inspired by or made in the style of earlier jewelry can be made at any time. As an example, a Georgian-style piece can be made in 1900 or 2000. There is a crossover between "style," and "inspired" jewelry and revival jewels.
Revival and Restrospective
Imitation is the best form of flattery. Lang's collection includes pieces that were made decades ago yet reference much earlier design periods. These pieces are described as a "retrospective," or "revival." For example, a necklace made in the 1950s using a clear Victorian aesthetic might be described as a "Mid-Century Victorian retrospective." This applies to much older pieces as well. A brooch from the Victorian era that features Etruscan design details might be described as "Victorian Etruscan Revival."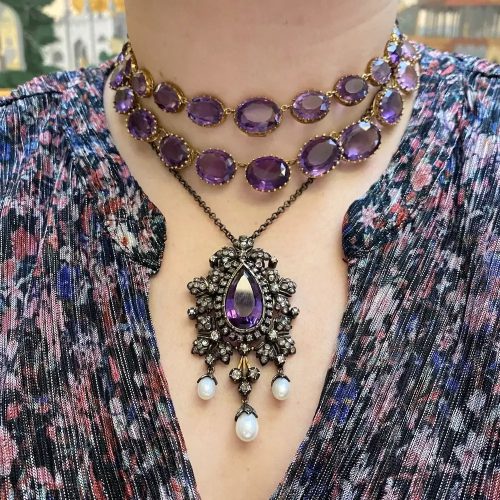 We also convert pieces that we believe would be better worn in a form more compatible with contemporary style standards and trends. A small Victorian brooch can make a lovely pendant or, converted, an Edwardian bar pin makes a stunning barrette. We disclose all Lang conversions and, if it appears that something has been changed before we received the piece, we do our best to accurately note our assessment.
Mid-Century Enamel Tortoise Brooch with Diamonds

In nature, turtles generally come in various earthy shades of green and brown. At Lang, they come in gleaming 18K gold colored with glossy red, white, and black…

Tiffany & Co. Wide Gold Bracelet

A big, bright, bold gold bracelet by one of the world's premier modern jewelers - Tiffany & Company (Italiano contingent). This 1 and 1/8 inch wide bauble is co…

Victorian Peridot and Diamond Halo Ring

An entrancing gemstone, an octagonal 5.96 carat peridot, exudes a luscious apple-green glow from within a frame composed of 18 bright-white and sparkling…