The Edwardian era, like the Georgian and Victorian eras before it, derives its name from the reign of an English King, Edward VII (1901-1910). This is the final jewelry period appellation to be defined by a British monarch. Edward was the lighthearted, luxury-loving antithesis of his mother. Even while he was still the Prince of Wales, Edward was infamous for being a playboy and a gambler. After his coronation he continued to surround himself with fast-moving, nouveau riche plutocrats, spending the majority of his time engaged in various social endeavors. Jewelry was an important part of the lifestyle cultivated by this extremely wealthy upper class. When considering the stylistic elements of the Edwardian period, the era actually begins earlier, during the declining years of the reign of Queen Victoria, and ends a few years after Edward's death with the onset of World War I. To the rest of Europe, this period was characterized as La Belle Époque.
The last decade of the nineteenth century, the fin de siècle, was a time when the rejection of the machine-made jewelry that had once been welcomed as an innovation, caused an about-face in fashion and design. Jewelry went from large and ostentatious to ethereal and delicate almost overnight. Employing what was to become known as the "garland" style or style guirlande, jewelers who chose not to embrace Art Nouveau or the Arts and Crafts movement borrowed the fluidity of their lines and incorporated them into more traditional motifs thereby creating Edwardian jewelry. The "new" designs of the Edwardian Era had their roots firmly planted in eighteenth-century jewelry. The Court of Versailles was inspiration for the customers who desired aristocratically styled jewels. Ornamental motifs from earlier centuries were available through pictorial records and eighteenth-century pattern books circulated freely beginning c.1850. In particular, Cartier encouraged his designers to wander the streets of Paris looking at seventeenth and eighteenth-century architecture for inspiration.
Garlands and ribbons, laurel wreaths, bow knots, tassels, and lace were rendered with a new lightness thanks to the advances made in platinum fabrication. Early platinum work continued to be backed by gold in the same manner as silver. In 1903 the invention of the oxyacetylene torch, which could reach the temperatures necessary to work with platinum, allowed jewelry to be made solely from platinum. The strength of platinum was fully exploited and it became possible to create jewels that resembled "petit point" embroidery and fine, delicate, sophisticated jewels resembling diamond-encrusted lace. This strength and rigidity allowed the jeweler to mount stones in minimalist settings. Millegraining, a new decorative technique made possible by the use of platinum, is featured often on Edwardian jewelry. Its border of delicate balls and ridges surrounding a gemstone or on the knife-sharp edges of a design served to give jewelry a softer, lighter look.
Pastel delicate fabrics were highlighted by the haute couture and this new "white" jewelry suited it perfectly. Platinum and diamond brooches consummately complimented the fashion. Small brooches continued to be worn in large numbers. Favorite motifs were bows, circles, swags, and garlands all in the delicate lacey new style. Linear bar brooches with colored stones and diamonds punctuated the neckline at ever-increasing lengths. Round and lozenge-shaped brooches, sometimes centering a colored stone, were dotted all over with diamonds set in light and bright platinum. Bows were more abundant than they had ever been. Designed to simulate fluid fabrics and lace they were magnificently pierced and millegrained creating incredible delicacy.
Diamond "dog collars" became a fashion fixture in France c.1865, catching on in England c.1880, they were a favorite of the Princess of Wales. These tight-fitting necklaces ranged from elaborately pierced platinum gossamer designs in the garland motif to simple black velvet or moiré ribbons with buckles, flowers and other designs at the center. Sometimes the ribbon was replaced by strands of pearls, several rows wide, supported by elaborately pierced diamond plaques. An extremely delicate, tight-fitting résille (netted) style necklace was made possible through the use of platinum. Résille not only covered the entire neck but overflowed onto the bodice with scintillating diamond-set platinum nets. Cartier called them draperie de décolleté.
Circa 1910 the changing necklines in women's fashions left little room for pins and brooches thereby placing increasing importance on necklaces. Simple chains suspending a delicate pendant or gemstone, known as a lavallière, and the asymmetrical double pendant négligées were examples of the new delicacy in jewelry design. Larger pendants were often circular with garland and geometrical motifs. Sautoirs composed of long ropes of pearls or beads completed by a generously fringed tassel at either end were wrapped in excessive proportions around the neck. Long chains composed of alternating hair-fine platinum links and pearls or spectacle-set gems were worn full length, falling past the waist, or wrapped and festooned in the nineteenth-century style.
Earrings began the century as simple diamond studs but were soon eclipsed by fragile openwork designs that better melded with the fashions of the period. Long glittering earrings with miniature garland-style wreaths and articulated center stones began to swing from twentieth-century ear lobes. In addition, fabric-like gossamer creations with delicate dangles, all suspended from decorated ear hooks, took many shapes. All the Edwardian elements were present including platinum openwork, diamonds, and millegraining. Designed to move and sway with the lighter flowing garments, Edwardian earrings were an everlasting iconic element of the period.
Wearing far fewer bracelets together at one time than their Victorian counterparts, the fashion for bracelets turned to delicate tapered designs with repeating motifs, elongated forms, or links in the new more refined style afforded by platinum. Another popular bracelet fashion was composed of a front section of beautiful, gem-set design completed by expanding and contracting plain links circling to the underside of the wrist. These bracelets were easy to fit to the wearer and less expensive because they only employed gemstones on the top side.
Tiaras were essential for the well-to-do and the elite and the advent of platinum allowed them to be elaborate and large without being heavy and unwieldy. The pervasive garland style resulted in fabulous tiaras with festoons and loops suspending all manner of pendeloques, pearls, and the like. As the first decade of the new century progressed, the tiara evolved into a bandeau, worn across the forehead, styled daintily in platinum, encrusted with diamonds, and secured with a ribbon tied at the back of the head. A new design referred to as the meander tiara, with a geometric Greek key motif, was very popular. Aigrettes, in a plethora of naturalistic styles with feathers reaching new heights, replaced the nineteenth-century custom of wearing brooches as hair ornaments.
Rings featured many of the same bow and garland motifs with large centerstones encircled by calibré-cut colored stones or small diamonds. The fashion was for rings to be stacked, often with multiples worn on each finger. Larger, more substantial rings with an elongated outline, pierced and paved with myriad of diamonds and colored stones, decorated the finger from knuckle to knuckle.
Buckles and slides also enjoyed a resurgence as they were often employed to cinch in the waistline required by the narrower feminine silhouette. Buckles could also be substituted for diadems with the addition of a ribbon to secure them around the head. Parures all but disappeared from jewelry wardrobes, replaced by combinations of jewelry worn together as if they matched but with distinctly different designs. Elements previously seen as critical to complete an ensemble were now impossible to wear-sewing large, heavy jeweled elements onto gossamer fabrics was simply not plausible. The monochromatic nature of this platinum and diamond jewelry allowed for an easy routine of mix and match to accessorize both day and evening.
Circa 1910 the fashion turned to "black and white" and platinum and diamond jewels were pinned to black ribbons and accented by black enamel or onyx. These jewels served double duty as they could be worn for any occasion and did not violate mourning etiquette.
Following quickly on its heels, a stylistic about-face with a distinct Oriental influence blew into town with the Ballets Russes' June 4, 1910, Paris performance of Schéhérazade. Peacock feathers, lotus blossoms, and aigrettes all studded with a rainbow of colored gems were suddenly in vogue. Amethyst, turquoise, Montana sapphires, opals, and demantoid garnets all in newly designed cuts; calibré, baguette, and marquises, along with briolettes, breathed new life into jewelry styles.
Developing and evolving alongside the "Edwardian" style, were the "Art Nouveau" and "Arts & Crafts" aesthetics. Also growing out of a rejection of machine-made jewelry and a prolonged period of mourning jewelry, these two aesthetics were vastly different from their "Edwardian" sibling. Sharing some stylistic lines and profiles, the materials, methods of manufacture, metals, and gems, were vastly different. All three aesthetics continued until the outbreak of World War I, four years after the death of Edward VII. Formal occasions and parties disappeared overnight and the light-hearted Edwardian spirit came to an abrupt end. Life changed dramatically in a heartbeat and jewelry all but disappeared. Precious metals became scarce and platinum, which was used in the manufacture of armaments, disappeared almost before it gained a foothold as a "precious" metal.
General History
Death of Queen Victoria.
Edward VII Crowned King.
McKinley Assassinated. Theodore Roosevelt Becomes President.
Pan American Exposition Held in Buffalo NY.
Discoveries & Innovations
Lever Safety Catch for Brooches Patented by Herpers Brothers of Newark.
Jewelry History
Gustav Stickley Begins Publishing his Periodical, The Craftsman (Until 1916).
Tiffany & Co. Exhibits at Pan-American Exposition, Special Hallmark (Beaver) Used on Exhibition Pieces.
General History
Vienna Secession Exhibit.
Edward VII's Coronation.
Discoveries & Innovations
Flame Fusion Process for Synthesizing Rubies Presented in Paris by Verneuil, Published and Patented in 1904.
Pink Variety of Spodumene, Kunzite, Discovered in California, Identified by and Named After George Frederick Kunz.
Process for Setting Rhinestones or Metal in Celluloid Patented.
Jewelry History
Joseph Asscher Develops the Asscher Cut for Diamonds.
Cartier Opens a London Branch.
Discoveries & Innovations
Black Opals Commercially Mined at Lightning Ridge, NSW, Australia.

Jewelry History
Wiener Werkstätte Founded in Vienna, Austria by Koloman Moser and Josef Hoffman.
Fabergé Opens London Branch, Selling Mostly 'Gentlemen's Rings'.
General History
Louisiana Purchase Exposition Held in St. Louis.
New York City Subway Opens.
Construction on the Panama Canal Begins.
Jewelry History
Louis Comfort Tiffany Exhibits his Jewelry for the First Time at the St. Louis Exposition.
Marshall Field & Co. Chicago, Establishes a Craft Shop for Jewelry and Metalware (Closed 1950).
Georg Jensen Opens his Silver-Smithy in Copenhagen, Denmark.
General History
Albert Einstein Proposes his Theory of Relativity.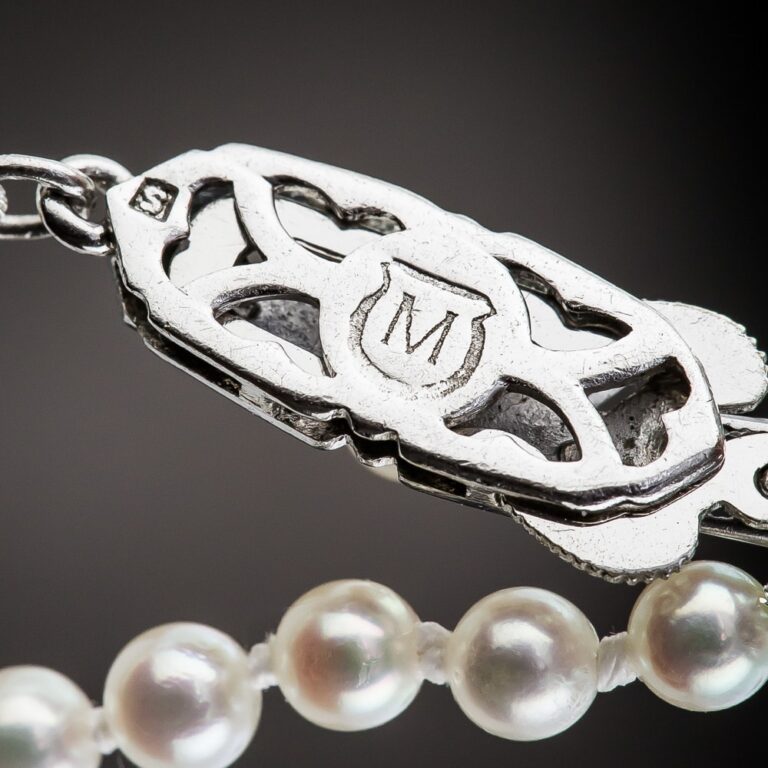 Discoveries & Innovations
First Spherical Pearls Grown in Japan by Mikimoto.
Cullinan Diamond Discovered in South Africa, Presented to Edward VII in 1907.
Jewelry History
Forest Craft Guild Founded by Forest Mann in Grand Rapids, MI, USA.
The Kalo Shop Begins Jewelry Making in Chicago.
Henri Matisse and Other Fauvist Artists Exhibit at Salon d'Automne in Paris.
General History
San Francisco Earthquake and Fire.
Finland is the First Country to Grant Women's Suffrage.
Jewelry History
National Stamping Act Passed in the USA, Requiring Marking of Gold and Silver Content.
Van Cleef & Arpels Founded in Paris.
Discoveries & Innovations
Benitoite Discovered in California, Declared Official State Stone in 1985.
Blue Verneuil Sapphire Becomes Available
Jewelry History
First Exhibition of Cubist Paintings Held in Paris, Including Works by Pablo Picasso and Georges Braque.
Tiffany & Co. Establishes Art Jewelry Dept. with Louis Comfort Tiffany as Director.
Discoveries & Innovations
First Spherical Cultured Pearls Patented by Mikimoto (First Grown in 1905, American Patent Granted in 1916).
Synthetic Spinel Accidentally Produced by Flame Fusion Process.
Henry Ford Introduces the First Mass-Produced Automobile, the Model T.
Jewelry History
Couturier Paul Poiret Opens 'Boutique Chichi', Introduces Corsetless Dresses and the Vertical Line in Fashion (c.).
A British Gemology Course is the Result of the Annual Meeting of the National Association of Goldsmiths of Great Britain and Ireland. First Course: 1912, First Diploma 1913.
General History
Copyright Symbol © Introduced for Printed Works.
Discoveries & Innovations
Leo H. Baekeland Patents First Entirely Synthesized Plastic, Bakelite.
The Wright Brothers Begin Large Scale Manufacture of the Airplane (First Flight 1903, Patented in 1906.
Synthetic Color Change Corundum First Created.
Jewelry History
General History
Edward VII Dies, George V Becomes King of Great Britain.
First Major American Women's Suffrage Parade Held in New York City, Demonstration in Washington DC in 1913.
Discoveries & Innovations
Eugene Morehouse Invents the 'Bullet' Safety Catch for Brooches, Patented for B.A. Ballou & Co. in 1911.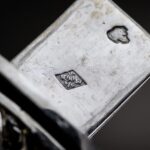 Jewelry History
France Classifies Platinum as a Precious Metal, New Hallmark (Dog's Head) Issued in 1912.
Suffragist Jewelry in Green, White, and Violet (First Initials for 'Give Women Votes') is Popular in Britain and the USA.
Discoveries & Innovations
Synthetic Blue Sapphires are Patented in the USA by Verneuil.
Jewelry History
The Hope Diamond is Purchased by Ned and Evalyn Walsh McLean.
George V has Cullinan I and II Set in Imperial State Crown and Scepters.
Jewelry History
Cartier Introduces the Baguette-Cut for Diamonds.
Oscar Heyman & Bros. Founded in New York.
New Hallmark for Platinum (Dog's Head) Issued.
General History
World War I Begins.
First Ship Though Panama Canal, Completed in 1913.
Jewelry History
The First U.S. Fashion Show is Staged by Edna Wollman Chase, Editor of Vogue.
Platinum is Declared a 'Strategic Metal' During Wartime, Use in Jewelry Diminished.
General History
Panama-Pacific Exposition Held in San Francisco.
Panama-California Exposition Held in San Diego.
Discoveries & Innovations
U.S. Patent #1165448 Granted to Karl Richter of Pforzheim, Germany, for a White Gold Alloy of Gold, Nickel and Palladium.
The Russian Revolution Begins.
Jewelry History
David Belais of New York Introduces his Formula for 18k White Gold to the Trade, Known as 18k Belais.
Cartier Designs the Tank Wristwatch, First Public Sale 1919.
General History
World War I Ends.
Bohemia, Moravia and Slovakia Become the Republic of Czechoslovakia.
First Regular Airmail Service, Between Washington DC and New York City Begins, New York to San Francisco in 1921.
Discoveries & Innovations
Polish Chemist J. Czochralski's "Pulling" Method for Gemstone Synthesis is Published.
Edwardian Diamond and Natural Pearl Dinner Ring

Just over 1 inch long and lovely, this singular, sensational and highly distinctive Edwardian dinner ring features a gorgeous, collet-set European-cut diamond w…

French Belle Epoque Diamond Necklace

We've always maintained that the backsides of fine Belle Epoque jewels are prettier than the front sides of their modern counterparts, and this astonishingly be…

Marcus & Co. Edwardian Diamond Dinner Ring

Throughout the early-to-mid-20th century, Marcus & Company enjoyed a well-earned reputation for artfully conceived and superbly crafted jewels. This Belle…
Sources
Becker, Vivienne. Art Nouveau Jewelry: London: Thames & Hudson, Ltd. 1985.
Bennett, David & Mascetti, Daniela. Understanding Jewellery: Woodbridge, Suffolk, England: Antique Collectors' Club, 2008.
Nadelhoffer, Hans. Cartier: Jewelers Extraordinary: New York, New York, Harry N. Abrams, Inc., 1984.
Romero, Christie. Warman's Jewelry, Radnor, Pennsylvania: Wallace-Homestead Book Company, 1995.