Art Nouveau Era – 1895-1915
Backlash and whiplash. The Art Nouveau movement began in France and was spurred by artists' dissatisfaction with design-deficient machine-made goods of the Industrial Age, focusing instead on handcrafted naturalistic pieces that emphasized design rather than the materials used.
When Samuel Bing, an art dealer in Paris, renamed his revitalized Asian art gallery L'Art Nouveau (meaning "new art" in French), he gave this new aesthetic its name.
Influences/Advances of the Era
The Arts & Crafts Movement which began earlier in England
Japonisme: the naturalistic style of Japanese art
Notable Jewelers
Louis Comfort Tiffany, Rene Lalique, Georges Fouquet, Henri Vever, Eugene Gaillard, Lucien Gaillard, Georges de Feure.
Metals
Gold was prevalently used during the era, while silver and platinum—alone or over gold— were typically used for diamond settings.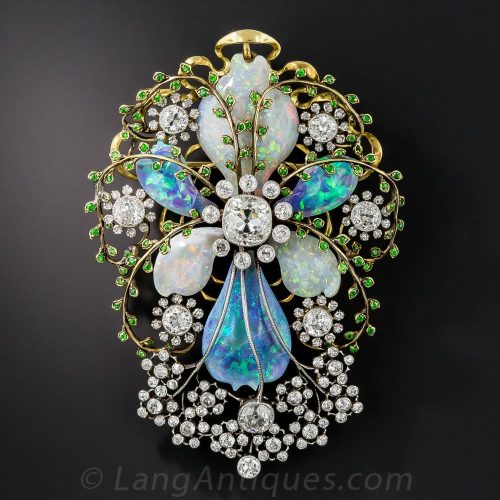 Plique-à-jour ("letting in the daylight" in French) involves applying enamel to cells with temporary backings and later burning away the backing, leaving translucent and beautifully nuanced colored enamel.
Pâte de Verre ("glass paste" in French) is ground glass, often colored with pigments, that can be manipulated into the appearance of a gemstone.
Styles/Motifs
Flowing lines–especially "whiplash" curves and the sinuous tresses of female figures—were iconic characteristics of the Art Nouveau movement. Fanciful beings (mermaids and fairies) along with nature motifs such as butterflies, dragonflies, flowers, vines, and leaves were ever-present and often colored with glorious enamels and vibrant jewels. This utterly enchanting "new art"  made a delightful mark in the annals of adornment.
Art Nouveau Opal Necklace and Earrings by Thomas Brogan

Grace yourself with an utterly delightful and enchanting combination--opals and curlicues! The necklace features a cushion-shaped opal that glows with mesmerizi…

Art Nouveau Enamel Flower Brooch

Held by a small band of pearls, a splendid flower--richly colored with a pinkish-burnt orange enamel--gently bends in a surround of gracefully curving leaves or…

Art Nouveau Brown Zircon and Diamond Dinner Ring

Here's something nouveau and different! Original Art Nouveau rings (circa 1900) are scarce enough, but a 1 1/8-inch-long dinner ring featuring an unexpected cen…