Art Deco Era – 1920s-1930s
The 1920s, often referred to as the "Roaring 20s" was a time of great prosperity and innovation—including a striking new aesthetic in jewelry.
The style that we call "Art Deco" received its—thankfully shortened–moniker from the Exposition
International des Arts Decoratifs et Industriels Modernes. Held in Paris in 1925, the Exposition was largely dedicated to the jewelry arts, emphasizing the association of art and modern industry.
Influences/Advancements of the Era
The Jazz Age with Prohibition and its accompanying speakeasies and flappers.
Cubist art movement, graphic design.
The excavation of Tutankhamun's tomb in Egypt as well as Indian, Asian, and South American inspirations.
Larger numbers of women in the workforce resulting in a change in women's fashion.
Notable Jewelers
Boucheron, Black Starr & Frost, Cartier, Chaumet, Jean Deprès, Georges & Jean Fouquet, Lalique, Lacloche, Mauboussin, Tiffany & Co., Van Cleef & Arpels, Raymond Yard, Fougeray
Platinum and White Gold
Platinum, a highly favored metal for Edwardian jewelry, had a resurgence after WWI and was used extensively during the Art Deco era. Because of its strength and malleability, it was well-suited to the fine filigree work and millegrain detailing characteristic of the crisp geometric designs of the period.
Invented in the 19th century, white gold was the other popular white metal used in Art Deco jewelry and was considered a low-cost substitute for platinum.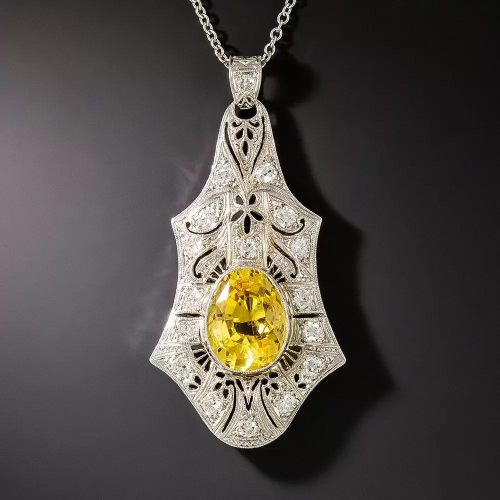 Diamond-set geometric patterns and forms with flat and linear symmetrical designs, often with an architectural effect and accented with colored stones, were iconic aesthetics of the era. Flora and fauna as well as Asian and African influences; diamonds set in platinum and white gold; diamonds with black onyx accents; bold color; hanging earrings and long necklaces (especially pearls) all gave the jewelry of the jubilant Art Deco period a decidedly distinctive style that still captivates today.
Art Deco 6.61 Carat Emerald and Diamond Pendant Necklace

An opulent Art Deco treasure hailing from the peak of the period - circa 1920s. Measuring an impressive 1 13/16 by 1 7/16 inches, a gorgeous, rich crystalline g…

Art Deco Carnelian And Enamel Ring

In this fabulous finger bauble, a gorgeous, glossy translucent burnt orange cabochon carnelian is presented in quintessential Art Deco glory from within a color…

Tiffany & Co. Art Deco French-Cut Diamond and Calibre Emerald Bracelet

Behold the the crème de la crème of Art Deco straight row bracelets! By America's premier jeweler of the period (circa 1925) --Tiffany & Company -- comes this e…